Friday, November 18, 2005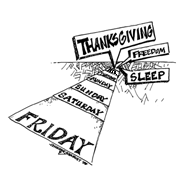 My mother always used to tell me, "If wishes were horses, then beggars would ride."
Now, I was a sharp kid, but I'll admit that I was never entirely sure what that meant. Of course, I've always thought that if you want something badly enough, you find a way to make it happen.
Thanksgiving is drawing distractingly near, and the ubiquitous October/November student complaint has reached its crescendo. Indeed, it would be difficult to find a student who has not once wished for a fall break, a day (or three) to catch his or her academic breath before finals. [Read article]

·
'Y?' Because we're on the way to the top
·
Pass/Fail: See if these ideas make the grade
·
Mailbag
Latest Issue: November 17, 2005
Latest Issue: November 15, 2005
Band Day brings out best in Southwest marching bands
With reality television all the rage, showdown competitions seem to be an everyday occurrence. There is the dance off, the sing off and the band off. OK, maybe you have never seen a band off, unless you will admit to actually watching "Drumline," but now you can.
The UA's Pride of Arizona marching band will be hosting its 52nd annual Glassman Foundation University of Arizona Band Day on Saturday, where high schools from all over the Southwest region come to "bring it" - marching band style. [Read article]



require('/home/webby/html/papers/98/polls/current.php')?>

showAds('bigbutton')?>







showAds('mediumbutton')?>


showAds('wildlinks')?>