Friday, November 18, 2005


Visitors Center opening today
Building may get solar power, if approved
The UA Visitors Center will mark its grand opening today with an open house from 9 a.m. to 5 p.m. in its new location just west of campus.
Special guests at the event will include the Pride of Arizona marching band, UA mascots and cheerleaders, and exhibitors from the Lunar and Planetary Laboratory, space sciences - including an exhibit of the Phoenix Mars Mission - and other UA attractions, said Visitors Center Director Heather Lukach. [Read article]



Fundraiser boasts bike art for wares
UA students and Tucsonans will auction off bicycle parts transformed into furniture, jewelry, purses, lamps and art in downtown Tucson this weekend.
Bicas, a bicycle-recycling cooperative and trade school, is sponsoring its 10th annual bike art auction tomorrow and Sunday at the Flash Gallery, 310 E. Congress St.
The auction will feature live entertainment and more than 100 pieces of art made from bicycle parts, most of which are recycled, said Kenneth Armstrong, a member of Bicas. [Read article]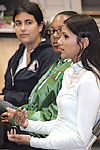 Sorority disputes stereotypes
Groups identify looks with culture, media
"Beauty is in the eyes of the beholder," said Gauri Pathak, Miss India Arizona 2005, as she and other panelists discussed how beauty is perceived differently for various races and cultures.
Theta Nu Xi, a multicultural sorority, hosted last night's forum, "Beauty in Popular Culture," to explore how the perception of beauty varies for women and men in different races, greek organizations, religions, backgrounds and lifestyles. [Read article]



Quick Hits
Safety fair today
The second annual public safety fair is being held today on the UA Mall from 11 a.m. to 1 p.m. Attendees will be provided information about domestic violence, acquaintance rape, self-defense and personal safety both in and outside of the UA community.
Free refreshments and glow-in-the-dark safety key chains will also be handed out. The fair is sponsored by SafeRide.
Cultural show tomorrow [Read article]



Minorities in health care wanted
Conference examines representation of minorities in health sciences field
Ethnic minorities are dramatically underrepresented in health care professions, which is the problem tomorrow's "Embracing Diversity in Health care," conference will address and attempt to help solve.
The conference targets students who are considering a career in medicine and will include an assortment of events like a health professions panel and a cultural competency workshop. [Read article]



Auction part of 17th annual nonprofit gala
Grand Ballroom site of benefit for AIDS foundation
The UA plans to host a charity auction and gala this weekend for one of Tucson's oldest and most respected nonprofits.
The 17th annual Jerôme Beillard Festival For Life, an annual charity event hosted by the Southern Arizona AIDS Foundation, will be held in the Student Union Memorial Center Grand Ballroom tomorrow.
The event has been hosted at a number of Tucson-area ballrooms in its 17-year history. Mae Krueger, events associate for SAAF, said that there were a number of reasons for bringing the event to the UA campus. [Read article]




Fast Facts
Things you've always never wanted to know
The lyricist of the song "Keep the Home Fires Burning," Lena Gilbert Ford, burned to death in her home.
The South Pole is actually considered a desert environment, averaging about the same amount of monthly rainfall as the Sahara Desert.
Someone who faces the glare of publicity may be said to be in the limelight. American chemist Robert Hare discovered that a blowpipe flame acting upon a block of calcium oxide - lime - produces a brilliant white light that could be used to illuminate theater stages. [Read article]




showAds('bigbutton')?>







showAds('mediumbutton')?>

showAds('wildlinks')?>