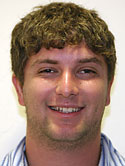 Dmitry Rashnitsov
columnist

By Dmitry Rashnitsov
Arizona Daily Wildcat
Friday, November 18, 2005
Print this


Breakfast and basketball are similar. You have to make sure you get enough so you aren't craving more.

The 2005 Arizona men's basketball team has the ingredients to make you feel full inside, but with one bad order, it could have you headed for the toilet.

But just like that all-important meal at Denny's, this team has a sunny upside.

The first choice of any good breakfast is to pick out the freshest young eggs. The Wildcats have some nice, youthful ones in freshmen J.P. Prince, Fendi Onobun, Marcus Williams and redshirt freshman Mohamed Tangara.

The guard Prince will scramble opponents with his crossovers, and Williams will make dunking over opponents look easy.

The duo (24 total points, 12 rebounds, eight assists) chipped in its fair shares during Wednesday's exhibition win over Team Georgia and will easily provide high-frying entertainment for as long as they feel like going to school here.

Tangara and Onobun (assuming he doesn't redshirt this season) will poach opponents off the ball and provide a streaky lift the Cats will need off the bench. They are front-court forces who can come in and bang with the big boys in the Pacific 10 Conference. Tangara had eight points, two blocks and five rebounds against Sonoma State on Nov. 9 in only 15 minutes.

Those are the kind of numbers he needs to put up to be on the front burner of Arizona head coach Lute Olson's rotations.

To get your carbohydrates during breakfast, a good stack of pancakes always fit the bill. The team has a trio of high-energy guys in Jawann McClellan, Ivan Radenovic and Chris Rodgers.

McClellan may seem like a bad batch of batter right now, as he will sit out the team's first seven games, but the sophomore guard will likely spend his time off healing his various injuries and working on his much-needed jump shot.

Radenovic and Rodgers have been shown to have sticky syrup hands on offense, at times choosing to try the ill-advised basket instead of passing it for an open look.

Rodgers, despite leading the team in scoring in exhibition play, is only a career 38-percent shooter, though building on his 2.3 assists-to-turnover ratio from last season will help fill the pastry in this offense.

Rodgers' and Radenovic's sticking-to-the-opposition-like-butter defense makes them invaluable on the floor.

Ham, bacon and sausage bring the meats to the table, while redshirt senior forward Isaiah Fox, junior center Kirk Walters and junior guard Mustafa Shakur bring them to Arizona.

Fox has always been a ham for attention, from his injuries to his attitude. This will be his year, because it is the only one he's got left. The guy is in the best shape of his career and is finally ready to take over as one of the senior leaders on the team.

Fox has never played a ton of minutes as a Wildcat, but did hit a juicy 54.5 percent of his shots from the floor in 2002-03, by far his most productive season.

Walters is another guy who hasn't been given the time in the skillet to succeed, but with the (Channing) Frye man gone, it will be his chance to step up. The middle is all his to roam, and let's just hope he doesn't get burned. Walters fouled out against Sonoma State in only 11 minutes and didn't really show much against Team Georgia or in the Wildcats' Red-Blue Game on Nov. 3, but he will have to step up and be the inside presence. They won't ask him to score a lot, but he will have to protect the bread basket.

Shakur came in looking like a small, scrawny dog, but has bulked up to a Ballpark frank. With Salim Stoudamire off of the grill, Shakur will have to carry the team on his buns. "Shake and Bake" had 11 assists in the Red-Blue Game and led Arizona with seven Wednesday. He'll have to keep handing out those dishes.

Although that rounds out your nutritious meal, we're still missing the key ingredient - a little bit of hot sauce.

Hassan Adams' spicy act gives the Wildcats their character. From his thrilling dunks to the triumphant grin, Adams personifies the entire troop.

The future NBA lottery pick will be an All-America selection. He will not only energize and motivate, but make us all forget about that blown 15-point lead to some Midwest team in the Elite Eight and the year he had last year.

The knock on Adams has always been his range, but look for him to prove NBA scouts wrong and start popping in those threes (he was 2-of-5 against Team Georgia).

Hot Sauce splattered 13 points and six assists on Sonoma State in just 17 minutes and can do some damage with his ability to get open and get the easy shot. Adams is shooting almost 51 percent from the field in his career.

Any good brunch has to have a good chef, and our fine cook is, of course, Olson.

The man with white on top of his head has been in Arizona's kitchen for 22 years and won 550 games. He wrote the cookbook on running a successful basketball program.

With all the pieces on the plate in March, the Wildcats could hit a Grand Slam.
---
Dmitry Rashnitsov is a journalism junior. He can be reached at sports@wildcat.arizona.edu.


Write a Letter to the Editor