Friday, November 18, 2005


No rest for the weary
My mother always used to tell me, "If wishes were horses, then beggars would ride."
Now, I was a sharp kid, but I'll admit that I was never entirely sure what that meant. Of course, I've always thought that if you want something badly enough, you find a way to make it happen.
Thanksgiving is drawing distractingly near, and the ubiquitous October/November student complaint has reached its crescendo. Indeed, it would be difficult to find a student who has not once wished for a fall break, a day (or three) to catch his or her academic breath before finals. [Read article]



'Y?' Because we're on the way to the top
We are motivated, goal-oriented and fully educated; we are the new work force, and we have come to take over.
As December graduation moves upon UA students, job prospects become more important than weekend plans. Realizations of the fast-approaching working life affect many seniors leaving the campus this winter. A quick look at the environment in which they will be thrown would be wise.
Generation Y is moving into the workforce with gusto, taking positions of power and superseding the baby boomers and older generations in the workplace. The differences in the two groups are staggering and are already causing some conflict, and this generation hasn't even hit 30. [Read article]



Pass/Fail: See if these ideas make the grade
McKale's Zona (petting) Zoo
Until last year, to complain about the lack of a student section in the McKale Center was as unique to UA students as our affinity for flip-flops. For the second game in a row, though, students on Wednesday night proved themselves somewhat unworthy of the student section carved out for them, leaving broad stretches of empty seats above the upper concourse. Sure, it was an exhibition game, but just as the basketball team didn't let up on its domineering defense, neither should those lucky few with basketball tickets have stayed home simply because it was an assured victory. The students who did manage to meander over to the game were loud but nowhere near the thundering applause one would expect from a Zona "Zoo." Until students bring the noise, the poor performance of the student section gets a Fail. [Read article]



Mailbag
Wildcat needs to steer clear of 'sexist' language
Ariel Serafin's Wednesday story on the Tunnel of Oppression ("Oppression issues seen in tunnel") provided students in my English 101 class with a stunningly ironic example of sexist language as used in a report about efforts to raise awareness on the harmful effects of "prejudice throughout history." Serafin said, "The rooms ... were manned by tour guides and actors." [Read article]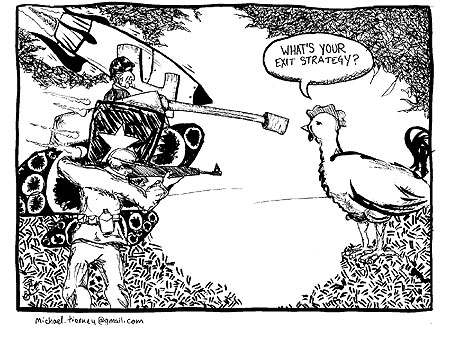 showAds('bigbutton')?>







showAds('mediumbutton')?>

showAds('wildlinks')?>