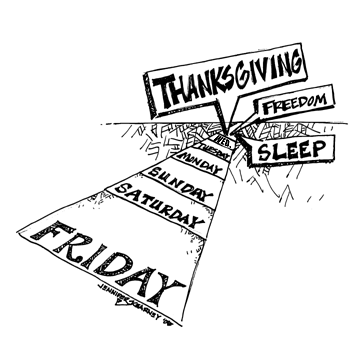 Illustration by Jennifer Kearney

By Ella Peterson
Arizona Daily Wildcat
Friday, November 18, 2005
Print this


My mother always used to tell me, "If wishes were horses, then beggars would ride."

Now, I was a sharp kid, but I'll admit that I was never entirely sure what that meant. Of course, I've always thought that if you want something badly enough, you find a way to make it happen.

Thanksgiving is drawing distractingly near, and the ubiquitous October/November student complaint has reached its crescendo. Indeed, it would be difficult to find a student who has not once wished for a fall break, a day (or three) to catch his or her academic breath before finals.

After today, there will be 11 days of class left. UA students are coming off a stretch of 48 consecutive school days, from Labor Day to Veterans Day, the longest uninterrupted leg of the academic school year.

Quite frankly, we're burned out. Tempers are short, sleep is forever a catch-up game, and most of us can't remember the last time we sat back and relaxed in front of our favorite TV shows, let alone read for fun or spent time on a useless hobby.

Yes, we are students, and this rigor is our fate and fortune. We may beg for mercy at the feet of the scheduling powers that be, but ultimately we go to the classes (or not), we do the work (or not), we get our grades and we accept the way things are. Or perhaps not.

Three years ago, during the 2002-2003 school year, then-Associated Students of the University of Arizona President Doug Hartz advocated a proposal to entirely remove the three-day week preceding Thanksgiving. Such a development would have resulted in a week off on the academic calendar, similar to spring break. It was voted down by the Faculty Senate, who expressed concerns that such a break would interfere with impending finals.

Since then, multiple candidates for office have asserted intentions to create a fall break, even though past student leaders have been unsuccessful. Among them were 2005-2006 ASUA presidential candidates Jacob Reuben and Nathan Bell.

The UA is required by the Arizona Board of Regents to maintain a certain number of "contact hours," or hours of instruction. The UA currently boasts a greater number of classroom hours than both Arizona State University and Northern Arizona University. Put simply, we have more days of class than any state university in Arizona.

The university could conceivably remove two days of classroom instruction and still meet the requirements of the regents. If three days were to be removed, the UA would have the same number of days as ASU. Even with three days gone, the university would still surpass NAU in contact hours.

But the three-day proposal was unanimously voted down in the Faculty Senate. The student body, if it cares to accept the challenge, then, has been left with one option, however repugnantly adult it may sound: compromise.

The Wednesday before Thanksgiving is arguably one of the least-attended class days in one of the least-attended weeks in the year. A past ASUA survey found that the average attendance in classes for that week drops by more than one-half. More than one-quarter of teachers have been known to cancel classes entirely the week of Thanksgiving.

While a day off in the middle of October or the beginning of November may sound like a brilliantly placed vacation, such a proposal has little extraneous merit beyond the obvious. The cancellation of this single day would allow the UA's considerable population of out-of-state students greater mobility and flexibility in their travels home for the holiday.

The placement of the Wednesday would allow students and faculty alike a much-needed breather, as well as time to work on research projects, papers or study for the upcoming final exams. The remaining two days of the week allow for most classes to meet at least once in the preceding Monday and Tuesday.

The number of class days maintained by a university may be one way to measure just how academically competitive they are. However, how academically competitive can a school really be when its constituents are exhausted, unmotivated and needing of a break?

A fall break could have great benefits for both faculty and students, but it will require work to achieve. In order to enact change, there needs to be dedication, drive and willingness to compromise. And yes, a simple wish to start it all.
---
Ella Peterson is a creative writing junior. She can be reached at letters@wildcat.arizona.edu.


Write a Letter to the Editor