Monday, November 21, 2005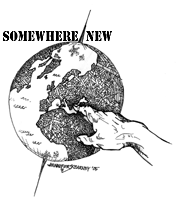 If there's one thing Natalie Koch can attest to, it's that things just aren't the same anymore in Aralsk, Kazakhstan. The Dartmouth College geography senior recently returned from a three-week stint in Central Asia to study the effects of poor water-management policies.
Indeed, policies have been inept at best, and destructive at worst: Aralsk, once a booming fishing hub of the Aral Sea, now sits 75 miles from its coast. The desiccation of the Aral Sea has been one of the great environmental catastrophes of our time, and it has been relatively undocumented in the mainstream media - but try to explain that to the dejected fisherman sitting on a bench in Aralsk, watching a swath of desert where a body of water, his former livelihood, once stood. [Read article]

·
Editorial: Bring the troops home
·
Mailbag
Latest Issue: November 17, 2005
Latest Issue: November 15, 2005
Band Day brings out best in Southwest marching bands
With reality television all the rage, showdown competitions seem to be an everyday occurrence. There is the dance off, the sing off and the band off. OK, maybe you have never seen a band off, unless you will admit to actually watching "Drumline," but now you can.
The UA's Pride of Arizona marching band will be hosting its 52nd annual Glassman Foundation University of Arizona Band Day on Saturday, where high schools from all over the Southwest region come to "bring it" - marching band style. [Read article]



require('/home/webby/html/papers/98/polls/current.php')?>

showAds('bigbutton')?>







showAds('mediumbutton')?>


showAds('wildlinks')?>