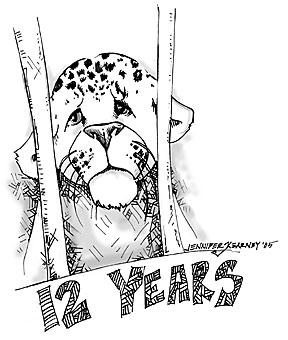 Illustration by Jennifer Kearney

Arizona Daily Wildcat
Monday, November 21, 2005
Print this


Things you've always never wanted to know
Australian scientists have identified some species of baby spiders that bite off the limbs of their mothers and slowly dine on them over a period of weeks. The researchers hypothesize the maternal sacrifice keeps the young from eating one another.
Father's Day is the holiday on which there are the greatest number of collect calls made in the U.S.
A baby gray whale drinks enough milk to fill more than 2,000 bottles a day.
The first telephone book ever issued contained only 50 names. It was published in New Haven, Conn., by the New Haven District Telephone Company in February 1878.
The full name of Rhea Perlman's award-winning character on TV's "Cheers" was "Carla Maria Victoria Angelina Teresa Apollonia Lozupone Tortelli LeBec."
If you are suffering from ozostomia, you are suffering from halitosis - or bad breath.
A rat can go without water longer than a camel can.
The average life expectancy of a leopard in captivity is 12 years.
James Dean was to star in the 1956 film "Somebody Up There Likes Me" - his untimely death in a car accident in 1955 sent studio bosses scrambling. After an exhaustive search for the "new James Dean," little-known actor Paul Newman was cast in the film's lead role. Film executives felt Newman looked more like Dean than any of the other actors considered. Dean's death was a fortuitous event in young Newman's film career.
Nineteen countries around the world are producing their own versions of "Sesame Street." Chinese children also tune in to the American children's classic TV show "Sesame Street," but there it's called "Zhima Jie." Da Niao, Big Bird's Chinese cousin, is played by a gentle young man who works as a truck mechanic. The other characters are all Chinese: a lively 3-year-old red monster called Little Plum and a little boy named An An.
If all the Oreo cookies sold to date were stacked on top of each other, the height of the stack would be equivalent to the height of 9.8 million Sears Towers. The Sears Tower is 1,454 feet tall.


Write a Letter to the Editor









showAds('bigbutton')?>

showAds('mediumbutton')?>

showAds('wildlinks')?>