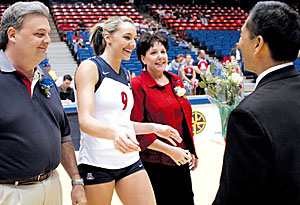 Josh Fields/Arizona Daily Wildcat

Senior middle blocker Bre Ladd, escorted by her parents, is honored during Senior Day on Saturday night in McKale Center. The Wildcats defeated No. 16 UCLA in three games to close out their final regular-season home game.

By Lindsey Frazier
Arizona Daily Wildcat
Monday, November 21, 2005
Print this


Seniors break records, say goodbye to fans

The No. 6 Arizona volleyball team furthered its case for hosting the first and second rounds of the NCAA Tournament, defeating two top 20 opponents in its final home matches of the regular season over the weekend.

Arizona (20-5, 12-4 Pacific 10 Conference) continued its dominance over No. 16 UCLA (17-9, 9-7) Saturday, as the Wildcats swept the Bruins in three games (30-26, 30-27, 30-19).

Arizona has won seven of eight games against the Bruins over the past four years.

"Tonight was one of the better-executed matches we've had in the last couple of weeks," said Arizona head coach Dave Rubio. "We're

going to do everything we can to put ourselves in a position to be a top four or five seed. This weekend was critical. We had to have this weekend to be able to put ourselves in that position."

With the win over UCLA and a five-game victory over No. 14 USC Friday, Arizona went 12-1 in McKale Center this season, losing only to then-undefeated Washington, and matched the team's best home record since 2001 (12-1).

The Wildcat seniors put up big numbers Saturday in what might be the last home match of their careers.

Outside hitter Jennifer Abernathy recorded a team-high 15 kills with 12 digs for her 13th double-double of the season.

Fellow outside hitter Kim Glass recorded the 2,000th kill of her career in the third game, becoming the first Wildcat and the fourth player in Pac-10 history to reach the mark. She finished with 13 kills, 12 digs and three service aces.

Middle blocker Bre Ladd tallied six kills and one service ace, while fellow middle blocker Angie Ayers saw some playing time, roaming the court in two games.

"Amy (Dyck) did a good job of spreading the offense around," said Ladd of the sophomore setter, who finished with 46 assists. "She realized she needed to spread the ball around, and obviously we're a lot more efficient team and more of a multithreat team when we can get the ball to the middles and to Kristina (Baum) at the opposite."

We're kind of squeaking by right now, scoring only in one position.
- Dave Rubio, volleyball head coach

On Friday, the Wildcats defeated the Trojans (14-9, 10-5) for the first time in four years, although it took them five games (30-26, 23-30, 34-32, 18-30, 15-13) to get the job done.
"It's gratifying," Glass said. "I don't think it's as gratifying as I thought it would be, just because I feel like we made it so much more difficult on ourselves."
Despite playing with a bum shoulder, Glass recorded a career-high 37 kills on 97 attempts, breaking her previous career-high of 33 kills that she set Nov. 12 in Arizona's five-game win over Stanford. Glass also added 10 digs for her 16th double-double of the season.
She received a cortisone shot on Thursday after injuring her right shoulder earlier that day in practice. She had surgery on the same shoulder in the offseason but said the pain is coming from a different area this time.
"It's really an inopportune time," Glass said. "It's either my deltoid or they said impingement, but I think it's my deltoid. It's a totally different spot. It's a little frustrating, but it's part of athletics."
Abernathy tallied a team-high 20 digs to go with 17 kills and a career-high six service aces.
The rest of the Arizona offense was stagnant, as the next closest scorer was Ladd with seven kills, and sophomore middle blocker Dominique Lamb and junior opposite hitter Kristina Baum, who had four kills each.
"Our offense is coming really from just one position - left-side hitting," Rubio said. "We're fortunate that we can get by with that. We're kind of squeaking by right now, scoring only in one position."
"I think the best thing we can take away from (Friday)'s match is the fact that we got a win," he said. "It was a struggle for us from the very first serve."
Arizona closes out its regular season on the road, as it takes on Oregon on Friday followed by Oregon State on Saturday.


Write a Letter to the Editor