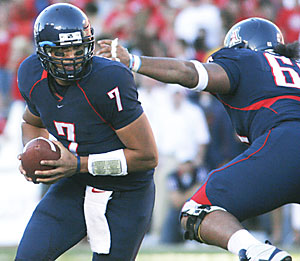 Jacob Konst/Arizona Daily Wildcat

Freshman quarterback Willie Tuitama looks upfield during Arizona's 28-21 loss to Oregon on Oct. 22 at Arizona Stadium. Tuitama will look to lead 25 newcomers to their first bid for the Territorial Cup when they take on ASU on Friday.

By Charles Renning
Arizona Daily Wildcat
Wednesday, November 23, 2005
Print this


Young Cats get first exposure to Territorial Cup

Throughout the season, the Arizona football team has relied heavily on a youthful squad, and many of those players have gained experience during the Wildcats' first 10 games.

Those youngsters will experience something new Friday when many of them play in their first Arizona-ASU rivalry game in Sun Devil Stadium at 1 p.m.

"I think they'll be excited to play," said Arizona head coach Mike Stoops, adding that he didn't expect any of his young players to be in awe of the rivalry. "We don't have anything to lose. We're just playing for the competition and the pride of the game as a rivalry.

"These guys have played in the Coliseum, so I look at them as experienced players now," Stoops said.

As many as 25 Arizona players, including seven starters, could see their first action in the battle for the Territorial Cup, and it is the coaches and veteran players who are trying to prepare them for the rivalry game.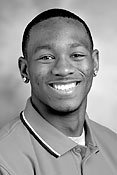 Antoine Cason
Sophomore cornerback
Senior tight end Brad Britton said it has been the job of fifth-year seniors like himself to let the rest of the team know what the game means.
"That's what we've been talking about, us older guys who really know what kind of a fight and what kind of a battle it is," Britton said. "Some people are trying to play it down, which is normal, but I just want to share with everybody how big of a game this is and how excited it makes me."
Britton is one of just seven players who were on the 2001 team that got into a scuffle on the Sun Devil Stadium field after the 34-21 Wildcat win. He knows what kind of emotions this game can bring and the importance of expressing that to his younger teammates.
Sophomore cornerback Antoine Cason also said he has talked to newcomers about what to anticipate heading into Tempe.
"Just expect a lot of intensity," said Cason, who recorded 12 tackles and forced a fumble in Arizona's 34-27 win last season in his debut in the rivalry. "Their fans are going to be crazy and talk a lot to you. Just be prepared for them to throw things at you and say things you're not used to hearing and just come in and not lose focus."
Redshirt freshman defensive end Johnathan Turner will get his first on-field taste of ASU and agreed with Stoops, saying the experience gained throughout the year has prepared the entire team for the game.
"We're young, but we're experienced now, so there's no excuses," he said. "We've had plenty of games to get ready, so we know what we need to do."
The youthful Wildcat under the most pressure will probably be freshman quarterback Willie Tuitama, who is coming off his only loss in three starts and his worst performance of the year.

Just be prepared for (ASU fans) to throw things at you and say things you're not used to hearing.

He lost two fumbles and threw three interceptions in Arizona's 38-14 loss to Washington Nov. 12.
"My thoughts on Willie haven't changed, they've only gotten stronger throughout his play," Stoops said. "You just don't want him to lose confidence in what he's doing. He knows what to expect and what's going to happen during the game."
Another Wildcat who will have a big impact on the Arizona offense and could be making his Arizona-ASU debut is freshman wide receiver Mike Thomas.
Thomas, who has caught an Arizona freshman-record 52 passes for 771 yards, broke a bone in his hand against Washington.
Stoops said he expects Thomas to play against the Sun Devils after a plate and two screws were inserted in the hand last week.


Write a Letter to the Editor