Monday, November 28, 2005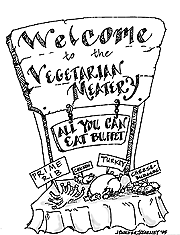 Gee whiz, I admire herbivores! And hypocrisy can be a hoot as well.
Thanksgiving is a day for giving thanks. Yeah, I did that, but I took it step further. I had a revelation. After over two decades of living on this planet, it finally hit me - I am a vegetarian.
While enjoying a healthy plate of succulent caramel ham and a sizzling, sizable helping of juicy, oven-baked turkey, it suddenly became obvious. I finally realized that I, in fact, belong to that select group of people who refer to themselves as "vegetarians." After all, next to turkey and ham, there is nothing I like more than a tender 22-ounce cut of prime rib. [Read article]

·
An unspoken epidemic
·
Mailbag
Latest Issue: November 17, 2005
Latest Issue: November 22, 2005
More than 7,000 bike in 23rd annual El Tour de Tucson
As the sun rose over the Santa Catalina Mountains on a chilly Saturday morning, thousands of bicyclists - young and old, experienced and novice - geared up for a daylong adventure.
The adventure: a winding, hilly, dusty 109-mile journey around the perimeter of Tucson, starting and ending near the Tucson Convention Center to raise money for Tu Nidito Children and Family Services, the American Parkinson's Disease Association and the Global Sports Alliance. [Read article]

require('/home/webby/html/papers/98/polls/current.php')?>

showAds('bigbutton')?>







showAds('mediumbutton')?>


showAds('wildlinks')?>