Tuesday, November 29, 2005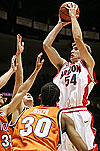 Filling the void: Cats' center by committee
Frontcourt fivesome fills in for drafted Frye with quantity, quality
For an outsider, the task of picking the most difficult member of the Arizona men's basketball team's frontcourt to guard is not an easy one.
"I think (redshirt freshman forward) Mohamed (Tangara) is kind of like this wild man who just goes after every ball, flailing his arms around," said senior forward Isaiah Fox. "It's tough to play against him because he's so physical." [Read article]




Saying goodbye: Seniors walking away from firm foundation
Underclassmen impressed by players' poise
Editor's note: This is the first part of a two-part series looking at the Arizona football team as it concludes its 2005 season. Check back tomorrow for a story on the Wildcats' young players as they prepare for larger roles in 2006.
TEMPE - Words cannot begin to describe the depth of the expressions Mike Bell and Darrell Brooks wore Friday as the senior duo, walking side by side, left a college football field for the last time at Sun Devil Stadium. [Read article]



From the booth: It's 20-12 in my book
All right, they lost.
The good news? You know that gap that existed between the former Tempe Normal School and Arizona, the one that used to resemble the Grand Canyon?
It's gone now, more closely resembling one of Tucson's potholes.
In 1999, the Arizona football team was trounced 42-27 in front of 68,102 mustard-clad faithfuls in Tempe. The Wildcats fell 30-17 and 34-20 in Tucson in 2000 and 2002, respectively, and 28-7 two years ago. [Read article]



On the air
A sampling of what's on today
TALK: 'Sports Fire'
Head-to-head sports debate
Hosts: Joe Rabinowitz and Adam Green KAMP 1570 AM/kamp.arizona.edu - 6 p.m.
M-HOOPS: Wisconsin vs. Wake Forest
2005 Big Ten/ACC Challenge - ESPN - 5 p.m.
M-HOOPS: Illinois vs. North Carolina
2005 Big Ten/ACC Challenge - ESPN - 7 p.m. [Read article]




Pastner's notebook: Of walk-ons and weeks off
In this edition of Pastner's Notebook, Arizona men's basketball assistant coach Josh Pastner talks about going back to Houston, the Wildcats' poor shooting this season and the emergence of walk-on Bret Brielmaier.
Wildcat: What was the highlight of team's trip last week to Hawaii for the EA Sports Maui Invitational?
Pastner: I think the highlight was obviously a great win versus Kansas, but I should say the highlight of the trip was the take-off and landing of the plane, safely, that's most important. Secondly, our win versus Kansas, and thirdly, the opportunity to beat both Connecticut and Michigan State, which we had a great opportunities to. And those two are two of the best teams in the country. If we had hit some free throws and done some other things, we could have come away with a victory, which is promising (because) they played great. We needed some things to work on, but we hung in there really tough and obviously, we have a chance to be really good this year. [Read article]



Thomas nabs co-freshman of year award
Four Wildcats named to all-conference teams
After leading the Wildcats in receptions and receiving yards this season, freshman receiver Mike Thomas was named the Pacific 10 Conference's co-freshman of the year, the conference announced yesterday.
Thomas, who shares honors with Oregon State guard Jeremy Perry, finished with 52 catches for 771 yards and five touchdowns, leading Pac-10 freshmen in all categories. [Read article]



Seniors Glass, Abernathy garner All-Pac-10 honors
Senior outside hitters Kim Glass and Jennifer Abernathy of the No. 6 Arizona volleyball team have been named to the 14-player All-Pac-10 team, according to a press release.
Glass, who is part of the team for the fourth straight season, was the only player in the conference to register double-digit kills in every match. A two-time Pacific 10 Conference Player of the Week, she led the conference in kills per game (5.78). [Read article]




showAds('bigbutton')?>







showAds('mediumbutton')?>

showAds('wildlinks')?>