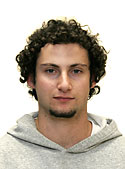 Roman Veytsman
sports writer

By Roman Veytsman
Arizona Daily Wildcat
Wednesday, November 30, 2005
Print this


The Arizona men's basketball team is 2-2, having lost two of three in Hawaii in last week's EA Sports Maui Invitational, good for the team's worst start since the 1989-90 season

Relax. This is not the end of the world.

The Wildcats are shooting 39.8 percent from the field this season. Accept it.

I haven't heard so many people say "Oh my God" since L.C. from "Laguna Beach" came out with her own show. Fans are more upset than liberals at a George W. Bush rally.

During the first half of Sunday's game against Virginia, as Arizona worked toward a meager three-point halftime lead, I heard so much groaning I thought Prohibition was back.

The Wildcats have played only one home game, and people are already jumping off the bandwagon like it is Vanilla Ice's second album.

I have some hope for those of you who think men's hoops is doomed for a season similar to our football team's.

1.
We can't shoot this bad all season. In Maui, Arizona shot less than 37 percent from the field. This was partly a result of Hassan Adams throwing up shots you wouldn't try in "NBA Jam" and partly the entire team racing to see who could shoot first.

It's easy to understand why head coach Lute Olson was so upset at halftime of the Virginia game. He walked into the locker room and said, "Let's play hard. Stop firing 3's."

Easy enough? Arizona shot just 32 percent beyond the arc in the Invitational but wouldn't stop firing, attempting 50 3-pointers in three games. Late comebacks against Connecticut and Michigan State fell short because of dismal shooting in the first half.

Not a problem. "We're a second-half team," said senior guard Chris Rodgers on Sunday.

He would know, considering he scored 15 of his 20 points against Virginia in the second half, and 17 of his 20 against the Spartans after halftime.
2.
This is a repeat of last season. Arizona lost two of its first five games, including losses to ranked Virginia and Wake Forest, while beating cupcakes Michigan (albeit barely), San Diego and Wright State.

Last year against the Cavaliers, the Wildcats scored a season-low 22 points in the first half. In the two games at Madison Square Garden against Michigan and Wake Forest, Arizona shot 31.4 and 31.6 percent in back-to-back games.

In those three games, Arizona did not reach more than 61 points, and it wasn't like the opponents were the 2004-05 Detroit Pistons. (By the way, that Arizona team had Salim Stoudamire, Channing Frye and a healthy Jawann McClellan.)

The Wildcats went on to finish second in the Pacific 10 Conference in field-goal percentage and first in 3-point percentage, and eventually made the Elite Eight.

There's still time to fix this year's shooting woes, Olson said, because - gasp - it's only been four games.

"There were so many things that we saw from the tapes that needed to be corrected," Olson said of the Maui Invitational games. "We went two and a half hours on Friday and two hours on Saturday, but there were a lot of things that we had to tweak offensively and still have to spend time on, but we'll get better at that."
3.
Arizona's two losses have come against top-10 teams and national-championship contenders. The Wildcats may not have won, but they kept the games close (against Michigan State, they sent the game to overtime).

When a team can't throw a pea into the ocean or hit the side of a barn, as the late Lakers announcer Chick Hearn would say, that team doesn't deserve to even be in the ballgame. Yet Arizona pounced on defense, contesting shots and forcing turnovers like a heavyweight fighter throwing jab after jab but not being able to land the hook or the uppercut.

"(Defense) will overcome anything," Adams said Sunday. "If you're playing a good defensive game, then shots will fall."

Michigan State and Connecticut have won three of the last seven national championships and have made a combined six Final Fours. If you're going to lose to someone, might as well make it those two teams.
4.
Arizona has forced 94 turnovers in four games. The full-court pressure that Olson planned to install full time has worked like a charm.

With plenty of depth off the bench, it's been "40 Minutes of Hell" for opponents, as in the Nolan Richardson-Arkansas days in the mid-'90s.

Defense is easier to learn than offense, and getting into a rhythm defensively comes quicker than on the other side of the ball.

Arizona's offense will take time to click because it is such a different team. Nonetheless, defense is hard to sustain through an entire game, and the Wildcats have sustained defensive pressure in each of their four games.
5.
McClellan returns on Dec. 17. He may not be "The Savior," like football's Willie Tuitama, but McClellan certainly adds some offensive punch.

He's a willing and able shooter who shot 47 percent from the field last year and averaged nearly six points per game.

Most importantly, he's the team's best offensive rebounder, so more missed shots will result in second-chance points.

That said, have no fear - after four games, Arizona men's basketball will be back to normal. So don't start crying about the demise and selling your tickets on eBay.
---
Roman Veytsman is a journalism junior. He can be reached at sports@wildcat.arizona.edu.


Write a Letter to the Editor