Featured CD Review: Björk

By Kylee Dawson
Arizona Daily Wildcat
Thursday, September 23, 2004


Listening to Björk's voice has always been equivalent to staring at a Michelangelo: No matter how much time you spend doing it, it's practically impossible to find a flaw.

But when rumors that the Icelandic goddess was releasing an a capella album started floating around, a lot of us were skeptical about her successfully pulling it off. Shame on all of us who ever doubted you, Ms. Gudmundsdottir!

Björk has always been good enough as a solo artist. But thanks to the collaborative efforts of human beatboxes, a couple of choirs, and a pair of rock musicians, Medúlla is her most complete album to date.

And it's not technically an "a capella" album. Most of the tracks have had some form of synthetic programming, but for the most part, several vocalists have created the background music for each track, with Björk simply singing over them.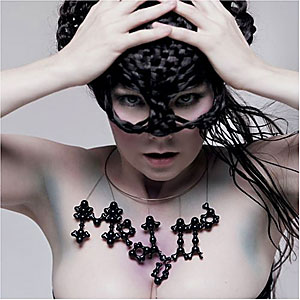 Björk - Medúlla
9 out of 10
For instance, the beautifully programmed "Desired Constellation" features Björk with an appearance by The Icelandic Choir so subtle, you'll probably miss it on the first listen.
Not to say the entire album is perfect. Yet, it is the imperfect simplicity of these songs - some blatantly modern, others undeniably ancient - that gives Medúlla the balls to be so profound.
The Roots' Rahzel, arguably the most talented human beatbox on the planet, provides both drum and bass on several tracks, including "Pleasure is Mine," and "Who Is It (Carry My Joy on the Left, Carry My Pain on the Right)."
Human beatbox Shlomo provides beats on "Oceania," which Björk performed at the opening ceremony for the Athens Olympics in August. Dokaka, a beatbox artist from Japan, demonstrates his award-winning skills on "Triumph of a Heart."
On several tracks, Inuit throat-singer Tanya Tagaq Gillis tries to steal the show with her guttural sound effects that immolate a cross between sexual climax and being eaten alive by a snarling dog.
You can't help but feel guilty after listening to the opening track, "Pleasure Is Mine" and, especially, "Ancestors," in which Tagaq primarily sighs, moans, grunts and breathes heavily as Björk sings and plays a gothic tune on piano.
Faith No More's Mike Patton and British rocker Robert Wyatt also loan their voices to Medúlla, but are easily overshadowed by the unique expressions of the other guests.
Sure, Björk has collaborated with other artists (Talvin Singh, Tricky, Nelle Hooper, Marius De Vries) in the past, but never like this.
Though her English has greatly improved, Björk still shows her Icelandic pride by including three tracks that are entirely in her native tongue: "Vökuró," "Öll Birtan," and "Midvikudags."
It's been over a decade since Björk took the world by storm with her debut solo album, appropriately titled Debut. After years of playing with The Sugarcubes, Tappi Tíkarass, Kulk and other Icelandic bands, Björk has continued to mature with each new album.
Justly summarizing an album of Medúlla's magnitude is practically impossible. But in her song "Enjoy," Björk said it best herself: "This is sex without touching."
Of course, she was speaking of drugs, but Medúlla is just as addicting.