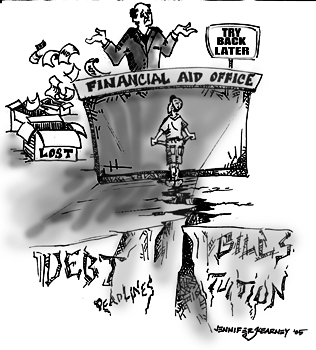 Illustration by Jennifer Kearney

By Mike Morefield
Arizona Daily Wildcat
Friday, December 2, 2005
Print this


You see the people milling around, waiting impatiently. Some are shuffling their feet, others are checking their wallets; all are nervous. "Man, if I don't get this, I don't know what I am going to do," mumbles one guy to his line neighbor. "My friend just got his and he said it's awesome, but it took forever," whispers another guy.

Although this is eerily reminiscent of the droves of Xbox 360 fans clamoring at the doors of Best Buy, it is far from. This is the Office of Student Financial Aid, the Bermuda Triangle of grants and money. These murmurs bring to light the problems the financial aid office does not want to see. Maybe this is simply the case of the squeaky wheel, but on a campus of 35,000 people, the wheel squeaks quite audibly.

For many students, financial aid is the only way they have to pay for their education, and they dread the day that the deferrals end and payments are due. For such a vital institution, one would think that small issues might arise but that the process is efficient and streamlined overall.

Unfortunately this is not the case, as many students this semester have realized.

Over the past semester, student voices have become louder and more agitated, asking where their money has gone. From the rumors of lost boxes of aid applications to the stories of constantly resubmitting forms, the financial aid office has come under attack from students.

Jennifer Ware, a political science junior, has had countless problems this semester with the financial aid office. "I was never in there for less than an hour, and that's after I went to the first desk," Jennifer told me. She has had her money delayed and the paper work requested multiple times.

"They lost one of my documents three times and said I had not turned it in, but I had hand delivered the same paper all three times," she said.

And Jennifer was not the only one. While waiting to see someone, she realized that the other people in the office were resubmitting the same paper. "They always had an attitude problem, too," Ware said. "Very curt."

Is there a mass conspiracy to hide students' money and delay grants? Unlikely, but it doesn't matter why because the money is still not getting to where it is needed most: students' bank accounts.

There are larger problems than simply one lost paper or one lone voice of dissent; there is a larger dilemma of financial aid trouble. No matter what the case or justification, a wait room should not be full of students with re-submittal forms.

Despite the student complaints, John Nametz, director of the financial aid office, said the problems are under control.

"I am not aware of any widespread problem," said Nametz. "In the 16 years I have been here, at least 60 percent of students usually receive their aid on time."

He also said that they have instituted a new computer system to handle financial aid more rapidly. Currently, 80,000 documents can be circling the financial aid office at one time, and Nametz understands that problems can arise, but he does not believe there is a large enough problem to raise concern.

Some grants, he says, can be turned in on Monday and have the money in the account in two weeks. Others, like federal money and outside grants, require more paperwork and time.

But time is the one luxury students don't have when money is held up. Tuition is expected to be paid in full by the first day of classes, which can be difficult when grant money is shuffling itself through the bureaucratic Tower of Babel.

By the end of the second week of classes, cancellation of classes begins for people with unpaid tuition. Adding the time for accounts that may not match perfectly in the system because of "re-submittals" or "account holds," and a person may be looking at taking an unexpected semester vacation from classes.

When 60 percent receive aid on time, it still leaves 40 percent counting pennies for their credits. On a campus the size of the UA, that makes a line of 14,000 people.

When the line out the door on the first day of class consists of two out of every five university students, it is time to deem it a widespread problem worthy of deep concern.
---
Mike Morefield is a political science senior. He can be reached at letters@wildcat.arizona.edu.


Write a Letter to the Editor