Tuesday, December 6, 2005


UA hosts international race event
More than 900 people will travel from countries as far away as Australia to attend the 32nd annual Symposium on Racing and Gaming this week, but some local graduating seniors could be the ones taking the most interest.
The conference, organized by the UA's Race Track Industry Program, serves many purposes, but most importantly it helps students in the program meet people from all over the world and network to find a job, said Steve Barham, associate coordinator of the program. [Read article]



Creator of nude pics nabbed by UA police
Students disturbed by man in library
A man was arrested for trespassing in the UA Main Library on Sunday night after several complaints were made by women who felt uncomfortable because he was drawing pictures of nude women, according to police reports.
Craig Gripentrog, 30, was asked to leave the library after police received complaints from a student that he was drawing pictures of nude women and staring at women who were passing by him, the report states. [Read article]



'Business as usual' for ASUA
Despite recent allegations against Student Body President Cade Bernsen, student leaders say everything is fine at ASUA.
"Business is open as usual," said student government adviser Jim Drnek in a Nov. 30 interview.
Although two Cabinet positions are vacant, Executive Vice President Erin Hertzog is confident the Associated Students of the University of Arizona Senate will approve the nominations at tomorrow's meeting. [Read article]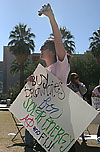 'Blitz' raises $1,128 for panels
The Solar Blitz fundraising campaign for solar panels on campus raised more than $1,000, student leaders said.
The campaign raised a total of $1,128 from the combined efforts of residence halls and fraternities and sororities, said ASUA Sen. Rhonda Tubbs.
Solar Blitz, which wrapped up Nov. 23, consisted of two separate competitions between the residence halls and Greek Life. Eight fraternities and sororities were teamed together in four groups. [Read article]



Faculty Senate outlines wish list for characteristics of next UA president
Members of the Faculty Senate reported at last night's meeting about the characteristics they are looking for in the next university president.
Joel Cuello, senate representative for the College of Agriculture and Life Sciences, said many faculty members within the college would like the next UA president to focus on the loss of faculty, or "brain drain" the UA is facing.
John Ulreich, representative for the College of Humanities, said College of Humanities faculty want a UA president who has a commitment of shared governance, inclusiveness of diversity and support for graduate education. [Read article]



Grads vote in favor of new ASA rep
Last week, UA graduate students voted in favor of allowing the president of the Graduate and Professional Student Council to become the graduate student representative to the Arizona Students' Association.
More than 600 UA graduate students voted in favor of the change. An online poll conducted by the GPSC revealed that 534 out of 621 students were in favor of GPSC representation, said Paul Thorn, GPSC vice president of external affairs. [Read article]



New class offers credit assistance
A marketing class is teaching students about how to manage their credit wisely by promoting a Web site sponsored by Citibank that is geared at college students.
The 400-level advertising class is a requirement for marketing majors and offers real-world experience of how to put together a successful marketing campaign, along with a $2,500 budget to manage, said Ed Ackerley, a marketing and media arts adjunct professor, who teaches the course. [Read article]



Quick Hits
Staff Advisory Council meeting today
The Staff Advisory Council plans to meet today from 3 p.m. to 5 p.m. in the "Swede" Johnson building.
The council works to foster and enhance communications between the classified staff and the university community. It provides a forum for discussing and defining the role of classified staff in the university and represents and advocates their concerns within the university community and statewide. [Read article]



Fast Facts
Things you've always never wanted to know
The '60s phrase "flower power" was coined by beat poet Allen Ginsberg.
In 1889, the first coin-operated telephone, patented by Hartford, Conn., inventor William Gray, was installed in the Hartford Bank. Soon, "pay phones" were installed in stores, hotels, saloons and restaurants, and their use soared. Local calls using a coin-operated phone in the U.S. cost only 5 cents everywhere until 1951. [Read article]



Wildcat holiday wish lists
Staff columnists took a break from their schedules to dream up desires for gifts. You can decide whether they've been naughty or nice.
The time is ripe for a simple request
Last semester, in a letter to the editor that sparked my, ahem, writing career, I noted that the use of Juicy pants had sharply declined. Remember the tight, sexy pants that the women of the UA would wear that had that special, magical word "Juicy" emblazoned the back?   [Read article]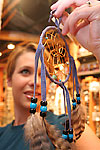 Students needn't look too far for cheap holiday gifts
With the holiday season rapidly approaching, students are facing the monumental task of exchanging hard-earned currency for a trinket of some sort and then handing it to another person, otherwise known as gifting.
Fortunately, if you've just made your last withdrawal at the First Bank of Change Found in the Sofa, you still have several options to get that perfect gift for less than the price of a meal at the Student Union Memorial Center. [Read article]



Holiday fun: helpful tips for freaking out your parents
The holidays are truly a special time of year. For college students, they represent a chance to reconnect with family over a traditional feast full of heavy foods and warm feelings.
And what better way to welcome yourself back into your parents' lives than by making a shocking and completely inappropriate announcement about your new life on campus?
No one knows how this tradition was started, but every year college students feel that a holiday dinner is the perfect time to announce to their families all of the new, horrific developments in their lives. [Read article]




Students: Some loved ones are impossible to buy gifts for
Decorative lights and singing carolers signal the onset of the holiday season, but they are also a warning for students to start searching for their impossible-to-buy-for loved ones.
UA students said the process of buying gifts is a challenge in general, although some friends and family members are harder to purchase for than others.
Taylor Bednarik, a finance junior, said the most difficult shopping challenge he's ever faced was trying to pick an appropriate gift for a new girlfriend. [Read article]




The good, the bad and the ugly of the holidays
Consumerism, travel add to students' stress
The semester is drawing to a close, and with students facing the prospect of three weeks without exams or early morning classes, they must also grapple with the love-hate relationship America has with the holiday season.
"I love the holidays, though it can be a little stressful," said Kelsey Bullington, a political science sophomore who is going home to California for the winter break. "But it's worth it, since it's the only time I get to see everyone in my family together." [Read article]




Student volunteering slow during holidays
Some still find time to mentor, help needy
Though the holidays are often seen as a time of giving, many students are too occupied with final exams and leaving town to lend a helping hand.
Hanees Haniffa, the director of Project Volunteer, said there aren't many volunteer events organized at the end of the year because students are too focused on cramming for finals to take a break to volunteer. [Read article]




The gift of the iPod: no social skills needed
Students at the UA find many ways to distract themselves from the daily mundane walks to their respective classes. In fact, it is rare to find a solo student without something attached to their ear as they cruise campus. Cell phones are by far the most popular, while students find one reason or another to have to call their best friend, mom, etc.
However, a new toy and distraction has exploded in popularity among students: the iPod. Now students are no longer forced to carry the ever-so-old and bulky Discman, worrying about skipping, scratching and other inconveniences. The iPod has created music in a sleek and trendy package, giving students one more reason not to have to talk to their peers as they stroll by them. [Read article]




showAds('bigbutton')?>







showAds('mediumbutton')?>

showAds('wildlinks')?>