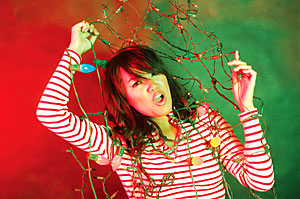 Photo illustrations by Jacob Konst/Arizona Daily Wildcat

Many students, like Leal, get tangled up with the hustle and bustle of the holiday season. Students who are brought down by the holiday season may find it difficult to escape the barrage of holiday cheer this time of year.

By Seth Mauzy
Arizona Daily Wildcat
Tuesday, December 6, 2005
Print this


Consumerism, travel add to students' stress

The semester is drawing to a close, and with students facing the prospect of three weeks without exams or early morning classes, they must also grapple with the love-hate relationship America has with the holiday season.

"I love the holidays, though it can be a little stressful," said Kelsey Bullington, a political science sophomore who is going home to California for the winter break. "But it's worth it, since it's the only time I get to see everyone in my family together."

Others, like Dan Mackay, a freshman majoring in English, are less enthusiastic to head home for the holidays.

"I'm probably not going home, I'll just stay and work and make money," said Mackay, whose family lives in Phoenix. "But I might go back for Christmas day."

Some find this time of year stressful; others love the gifts and the decorations. And whatever your religion, there's no escaping the marketing blitz of holiday-themed commercials and store displays that seem to keep going up earlier and earlier every year.

"I think that it takes away from the point of the holiday," Bullington said. "It's supposed to be about family and giving, not the materialistic part of it."

Kevin White, a music education senior, said he reduces stress by doing his best to ignore the rampant commercialism and long lines.

"I don't like it at all, and I try to avoid it as much as possible," White said.

But White said his distaste for the commercial aspects of the season doesn't stop him from getting into the holidays' spirit of giving and family.

"I like going back to Flagstaff to see my family and the snow," White said. "I really enjoy trying to figure out what my friends and family would like."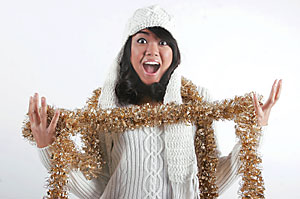 Photo illustrations by Jacob Konst/Arizona Daily Wildcat
'I love the holidays!' says Chrisselda Leal, a pre-nursing sophomore, as she gets into the holiday spirit with a golden garland.
Tom Woodhead, a political science exchange student from England, said the timing of American holiday commercials and store displays is drastically different from the celebration back home.
"I think there's too much commercialism here," Woodhead said. "The stores do up all the decorations in September and October. It's pretty silly."
Woodhead said in England, stores wait until the weeks before Christmas to have holiday sales.
Rick Wilson, a senior majoring in molecular and cellular biology, said he's become a bit more apathetic as the marketplace becomes more consumer driven.
"But even without the commercialism I don't think I'd feel any different about it," Wilson said. "It's still rooted in a religious holiday."
But despite the potential for stress and cynicism, some people look forward to everything the holiday season can throw at them.
"I love giving gifts and getting gifts," said Chris Charlow, an industrial engineering freshman.
Charlow said he isn't bothered by commercialism and appreciates the enthusiasm of retailers, even if it is premature.
"That's what sets the holiday mood," Charlow said. "It's necessary."


Write a Letter to the Editor