Tuesday, December 6, 2005


Keeping pace: Rising to the challenge
Junior improving by leaps and bounds in new role as power forward
What a difference a year has made for Linda Pace.
Last season, she was a bench warmer for the Arizona women's basketball team, playing sparingly as a guard out of the regular rotation and making little impact on the game's outcome.
Now the 5-foot-9 junior is starting at power forward.
"It's been a big adjustment getting into a new role, being much more of a contributor to the team," she said. "Having to adjust to that is still a lot more comfortable out there on the court." [Read article]



From the booth: Punchy Cats need more fan support
Men's and women's basketball, volleyball, men's and women's swimming, and ice hockey were all in action during a busy weekend for Arizona athletics.
Wait ... ice hockey?
Of the nearly 37,000 undergraduates on campus, I'd be willing to bet that half of them learned of the men's basketball team's defeat to Houston by Sunday.
Many probably even knew of the women's hoops team's conquering of the Fiesta Bowl Classic and volleyball's advancement to the Sweet 16 of the NCAA Tournament (despite getting royally screwed with its travel schedule). [Read article]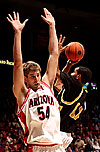 Basketball notes: Cats in danger of ending consecutive Top 25 streak
First-half sit-downs send message to tardy pregame diners Adams, Rodgers
When Arizona men's basketball head coach Lute Olson benched senior guards Hassan Adams and Chris Rodgers for much of the first half of the Wildcats' 69-65 loss to Houston on Saturday, it wasn't a first, even with this year's roster.
Olson has taken game time from players like redshirt senior forward Isaiah Fox and Rodgers for disciplinary issues in the past, and sat former star guard Salim Stoudamire for a game against Marquette last season. [Read article]



On the air: A sampling of what's on today
M-HOOPS: Kansas vs. St. Joseph's
2005 Jimmy V Classic - ESPN - 5 p.m.
M-HOOPS: Michigan State vs. Boston College
2005 Jimmy V Classic - ESPN - 7 p.m.
SOCCER: Chelsea FC vs. Liverpool FC
UEFA Campions League - ESPN2 - 12:30 p.m. [Read article]



Soccer season review: Cats follow magic of '04 with postseason foray
Pac-10 player of year Miller, other seniors leaving team to youth
The Arizona soccer team accomplished so many program firsts last season that many wondered whether the encore would look nearly as good.
It ended up looking real good, with the team making its first-ever trip to the Sweet 16 of the NCAA College Cup and many Wildcats thinking they did some damage to those "fluke" rumors.
"We are really establishing our team and our program," said senior midfielder Jennifer Klein. "When you actually do it, it speaks higher than any words. It's a statement to girls on the team and girls coming in the future. It's the real deal. [Read article]



Golf season review: Men's golf learning from shaky fall, set for spring
Although the Arizona men's golf team fell a little short of a hole in one in its fall season, the Wildcats said they're only a chip shot away from putting together a title run in the spring.
The team played in five tournaments in the fall, logging top-10 finishes in each. Arizona's best finish was sixth at the CordeValle Collegiate Classic in San Martin, Calif., Oct. 31-Nov. 1.
"(We) didn't play as good as we wanted to, but we still have a good chance to make the postseason," said Arizona assistant coach John Knauer. "We want to peak towards the end of the (spring)." [Read article]



Women finish strong
After a dubious start in its first tournament of the season, the Arizona women's golf team rebounded thanks to a pair of unlikely contributors.
Freshmen Amanda Wilson and Lauren Espinosa both ended in the top 10 at the Las Vegas Collegiate Showdown from Oct. 31-Nov. 2, as the Wildcats flirted with a second-place finish until the final round.
"The freshmen were able to get a feel for college golf and get their feet wet," said Arizona head coach Greg Allen. "We were led by two freshmen, and if the seniors do well, I feel we'll do really good (in the spring)." [Read article]




showAds('bigbutton')?>







showAds('mediumbutton')?>

showAds('wildlinks')?>