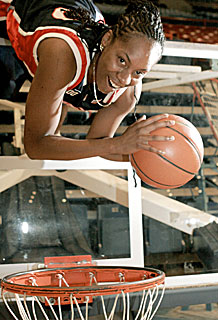 Jacob Konst/Arizona Daily Wildcat

Junior guard Linda Pace has seen increased action this season after moving to power forward from guard. Pace has played in all of the team's six games, averaging career highs in minutes played and points.

By Michael Schwartz
Arizona Daily Wildcat
Tuesday, December 6, 2005
Print this


Junior improving by leaps and bounds in new role as power forward

What a difference a year has made for Linda Pace.

Last season, she was a bench warmer for the Arizona women's basketball team, playing sparingly as a guard out of the regular rotation and making little impact on the game's outcome.

Now the 5-foot-9 junior is starting at power forward.

"It's been a big adjustment getting into a new role, being much more of a contributor to the team," she said. "Having to adjust to that is still a lot more comfortable out there on the court."

With the death of center Shawntinice Polk on Sept. 26 and subsequent injury to her replacement, freshman center Amina Njonkou, Arizona was left with only two true post players.

Conceding a size advantage in the post in nearly every game this season, Arizona head coach Joan Bonvicini decided to play the only way her team could, with a hectic pressing style predicated on quickness and athleticism, both Pace's strengths.

"It helps us quite a bit," Bonvicini said. "We're quicker. We're shorter, but we need to utilize our quickness. She's done a good job.

"I think she liked the challenge," she said. "All players want to do whatever the team needs."

While Pace started slow in the team's first three games, she's come on strong lately, recording a career-high 10 points Nov. 26 against Utah.

Pace has averaged nine points per game in her last three appearances, playing 33 minutes against Utah and 32 on Sunday against Chicago State in the championship game of the 2005 Fiesta Bowl Classic in McKale Center.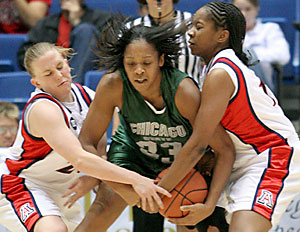 Claire C. Laurence/Arizona Daily Wildcat
Sophomore guard Jessica Arnold, left, and junior guard Linda Pace try to swipe the ball away from a Chicago player during Arizona's win Sunday. Despite being matched against bigger defenders, Pace has found success by exploiting her quickness.
That's a stark contrast from last year, when she put up averages of only 0.7 points and 0.7 rebounds in 4.0 minutes. In fact, Pace scored more points in the team's Fiesta Bowl Classic victories than she did all of last year.
"I've seen (Pace) more confident this year," said senior guard Natalie Jones. "It is hard to go to the 4-spot when you've played 2-3 all through college. Playing the 4, she's a lot more confident."
Pace, the first person in her family to attend college, played some power forward in high school, which Bonvicini said has made the transition easier.
Her biggest contribution has been in the team's press, as her quickness is rarely seen in typical power forwards.
"In the press it's good, because she's like an extra guard," said junior guard Joy Hollingsworth, who has also played at forward this year. "With her, that helps us get up the court with it."
"It helps it a lot because it does not even allow (opponents) to get into the half-court offense," Pace said.
Both Jones and Hollingsworth spoke of Pace's improving confidence, an important trait for a player switching positions after rarely playing.
"Every day and every game, she's improving and really getting more comfortable," Bonvicini said.
That can be seen most in her jump shot, which she hit with regularity in this weekend's wins over Lehigh and Chicago State.
"(Pace) can hit a 15-footer any time, and that's what spreads the floor a lot of times," Hollingsworth said. "Most post players really can't take people off the dribble, and she can do it all. She can take people off the dribble, hit that 15-footer, and she rebounds well."
While the team's four-guard lineup has worked thus far, things will get more difficult when No. 12 Stanford and No. 15 ASU pop up on the schedule, as the skill and height of the opponents' post players will increase greatly.
"We're going to cross that bridge when we come to it," Bonvicini said. "We'll continue to do the little things."
While Pace said forcing turnovers from the team's press should help by making her play fewer possessions against bigger defenders, she said she's not going to back down from the challenge.
"I'm going to battle, get low and get that center of gravity," she said. "I know I can handle it. It's just going out there working hard."
Pace's role epitomizes the style Arizona will employ this year: a fast-paced game based on quickness over height and athleticism taming power.
"It's run-and-gun," she said. "We're going to win this way."


Write a Letter to the Editor