Tuesday, January 31, 2006


Wildcats hopeful for rebound
Team trying to put Carolina drubbing in past
At yesterday's press conference, it was apparent that all members of the Arizona men's basketball team were just trying to forget about the loss in North Carolina as best as they could.
Junior center Kirk Walters talked about their still-legitimate shot at winning the Pacific 10 Conference crown. Junior point guard Mustafa Shakur spoke openly about how nobody on this team is worrying about the NCAA tournament, and head coach Lute Olson even had sheets printed up with his record against Atlantic Coast Conference teams during his tenure in Tucson. [Read article]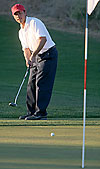 Men take early lead in Tucson tourney
Golf begins second leg of long season
Picture this: You are a student-athlete at Arizona. Not just any student-athlete but a golfer on the men's golf team, a sport in which the season runs from September to June.
Are you stressed out yet?
The Arizona men's golf team began the plunge into the second part of its season with the start of the Ping-Arizona Intercollegiate yesterday, which boasts four of 16 teams that were nationally ranked at the end of the fall season, yet features Arizona at the top of the team leaderboard. Arizona junior Henry Liaw leads all golfers individually at 9-under-par, with holes left to complete in his second round. [Read article]



Casey at the Pen: Football translates easily to Hollywood
"Secretary Cleary, I'm John Ryan. " Well, John Ryan Casey. For the next few minutes, we're going to examine all aspects of your beloved Wildcats through the eyes of Hollywood.
Arizona football head coach Mike Stoops on the recruiting trail (courtesy of "Wedding Crashers"): "You're sitting there, you're wondering, 'Do I have food on my face, am I eating, am I talking too much, are they talking enough, am I interested? I'm not really interested, should I play like I'm interested but I'm not that interested but I think she might be interested but do I want to be interested but now she's not interested?' So all of a sudden I'm getting - I'm starting to get interested..." [Read article]



Junior Liaw stays humble despite success
Henry Liaw is the Arizona men's golf team's golden boy - just don't tell him that.
The humble junior realizes that he is a leader of the team, but how many leaders have you met who shy away from the word leader?
"I don't like to use that word," he said. "It feels controlling."
He said that Arizona head coach Rick LaRose says everyone is a leader and they are there to pick each other up.
Liaw has been on the radar as one of the school's best golfers since he came to Arizona as a freshman, playing with the likes of Arizona alum and pro golfer Chris Nalen. [Read article]



Tritons torpedo Arizona ruggers
The Arizona club rugby team committed several errors in dooming itself to a 36-20 loss at the University of California-San Diego in its SoCal Conference opener Sunday.
It had been more than a decade since the Tritons defeated the Wildcats in rugby.
"We are a team that can beat virtually everybody, but we made a number of mistakes," Arizona head coach Dave Sitton said. "We made UCSD look like a lot better of a team than they actually are." [Read article]



Olson puts the kibosh on 3-pointers
The gap between Arizona's best 3-point shooter and the rest of the unranked squad is staggering. Freshman forward Marcus Williams, maybe the least-expected gunslinger at the beginning of the season, is shooting 46.2 percent from long range, while Arizona's second-best deep shooter is currently freshman walk-on David Bagga, who is one for three on the season. The solution, said Arizona head coach Lute Olson, is to stop shooting 3-pointers all together. [Read article]




showAds('bigbutton')?>







showAds('mediumbutton')?>

showAds('wildlinks')?>