Chris Coduto/Arizona Daily Wildcat

North Carolina Tar Heels forward David Noel blocks Wildcat junior forward Ivan Radenovic's shot during the second half of Saturday's game at the Dean Smith Center in Chapel Hill, N.C. North Carolina beat Arizona 86-69.

By Shane Bacon
Arizona Daily Wildcat
Tuesday, January 31, 2006
Print this


Team trying to put Carolina drubbing in past

At yesterday's press conference, it was apparent that all members of the Arizona men's basketball team were just trying to forget about the loss in North Carolina as best as they could.

Junior center Kirk Walters talked about their still-legitimate shot at winning the Pacific 10 Conference crown. Junior point guard Mustafa Shakur spoke openly about how nobody on this team is worrying about the NCAA tournament, and head coach Lute Olson even had sheets printed up with his record against Atlantic Coast Conference teams during his tenure in Tucson.

Olson said that even with the loss at Chapel Hill, N.C., the Wildcats are still 1-1 against the ACC this season with the 81-51 win at home against Virginia on Nov. 27, and his career record against the ACC is 12-9.

"It seems like sometimes those facts get lost in the shuffle," Olson said.

With the Wildcats (13-7, 6-3 Pac-10) recovering from a tough non-conference loss on the road, a lot of points were brought up as problems in the 86-69 loss Saturday.

"We had a lot of missed defensive assignments," Walters said. "We just had some breakdowns on defense that got them some open shots."

The Tar Heels shot a season-high 56.7 percent from the field as they cruised to victory in what Arizona freshman guard J.P. Prince said was not quite the Wildcats' best effort.

"We played terrible," Prince said. "Our worst showing of the season."

Even as the players answered questions about the road loss, they were quick to talk about the upcoming games and how the team is playing a must-win remaining schedule.

"We have some big games coming up here and we have to get the win," freshman forward Fendi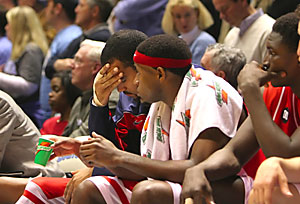 Chris Coduto/Arizona Daily Wildcat
Arizona's Isaiah Fox sits dejected with Hassan Adams during the second half of Arizona's game at North Carolina, Saturday Ja. 28, 2006 at the Dean Smith Center in Chapel Hill, N.C. North Carolina beat Arizona 86-69.
Onobun said. "Chapel Hill is over and done with, so we're just looking forward to (Southern California) and UCLA."
Onobun said that with a tough year in the making, the Wildcats just can't lose again.
"This is not one of our best seasons, but all we can do is bounce back, continually get better," the freshman forward said. "We're in a must-win situation, I feel, and we have to do whatever it takes to get the win."
"A lot of people are talking (like) we're a bubble team and everything," Prince said. "But we have to go out and show ourselves. We just know we have to win every game and we shouldn't lose anymore."
Shakur said that all the NCAA tournament talk isn't poisoning the locker room.
"I wouldn't want anybody in the locker room that is worried or scared," Shakur said. "If you're scared, go play badminton."
Luckily for the Wildcats, the team is tied for second in the conference, trailing the Bruins by only one game.
"Win a couple of games and it puts us in a great position for the Pac-10," Shakur said.
Olson said that some changes will be made in practice this week concerning the team's offensive struggles, namely their 3-point shooting, which has sunk to 31.3 percent for the year.
"(Senior guard) Hassan (Adams), Mustafa, J.P. Prince and (junior forward) Ivan (Radenovic) would be shooting over 50 percent had they taken two-point shots and we've given them enough time to prove if they can or cannot shoot (3-pointers)," Olson said. "It's killing us."
Olson also said that inside scoring will need to improve if this team wants to remain afloat.
"We still have to develop more of an inside game," Olson said. "I thought that Kirk Walters played extremely well again, but we do not have people getting the ball inside. If we're going to be what we can be, we're going to have to have an inside presence."
The Wildcats will take their shot at the Los Angeles schools this week, with USC Thursday and UCLA Saturday.
"This week will be critical in terms of the Pac-10," Olson said.


Write a Letter to the Editor