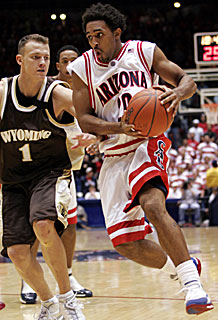 SAUL LOEB/Arizona Daily Wildcat

UA senior guard Salim Stoudamire drives the lane during en route to his 19-point performance during the Wildcats' 98-70 victory over visiting Wyoming Tuesday night in McKale Center.

By Roman Veytsman
Arizona Daily Wildcat
Friday, December 3, 2004
Print this


No. 15 Miss. State on tap for Cats at Anaheim event

The Arizona men's basketball team's tough non-conference schedule will continue Sunday as the Wildcats travel to Anaheim, Calif., to take on the No. 15 Mississippi State Bulldogs at 2:30 p.m. MST in the John R. Wooden Classic.

After showing signs of breaking out of its shooting slump last time out against Wyoming by scoring a season-high 98 points, No. 21 Arizona will slug it out with a defensive-minded Mississippi State team (5-1) that has yet to allow more than 71 points in a game this season.

"I don't know where Mississippi State is ranked, but they should be in the top 10," head coach Lute Olson said. "We've got our hands full."

The Wildcats (4-2) would like to push the pace and reach something close to the 98 points they scored against the Cowboys. The Bulldogs, however, bring in an experienced team led by pre-season All-American Lawrence Roberts. Roberts snubbed the NBA to come back to school, and the 6-foot-9 senior has already posted a triple-double this season.

Wooden Classic
Arizona

vs.

Mississippi State
Sunday, 2:30 p.m.
TV: WGN
Radio: 1290 AM

Anaheim, Calif.
"We need to limit his touches," UA assistant coach Josh Pastner said. "When he does shoot it, we have to make it tough on him. We have to keep him off the glass, and play sound, fundamental defense on him."
Mississippi State did lose its starting point guard from last season, Timmy Bowers, but sophomore Gary Ervin has a year under his belt and is tough as rocks, according to Pastner, who watched him play during the recruiting process.
"He's quick, fast, and he's a competitor," Pastner said about the New York product, who is averaging 8.0 points per game and posted 10 assists in his last game against Missouri-Kansas City. "It's going to be a good matchup between him and Mustafa (Shakur)."
The Wildcats are 2-0 all time in the Wooden Classic, previously defeating Utah and Purdue, and are 1-1 all-time against Mississippi State. In their last meeting, Mississippi State won the 2000 Fiesta Bowl Classic in McKale Center with a 75-74 win over Arizona, giving the Wildcats their only loss in 38 appearances at their own tournament.
Neutral sites haven't been friendly to Arizona and neither have the rims. The Wildcats have shot less than 32 percent in their two neutral-site games, scoring just 60.5 points in the two contests.
"We can't settle for jumpshots," UA senior guard Salim Stoudamire said, noting the necessity for the Wildcats to get the ball to the interior.
The Arizona rotation is getting deeper, with 13 players hitting the floor in the last game, 10 of them scoring. Freshman Jawann McClellan has established himself as a go-to guy off the bench, scoring 19 points in 21 minutes against Wyoming.
"He's a step ahead," Stoudamire said.
"He's been given the opportunity and he's worked his butt off in practice," Channing Frye added.
Along with junior reserve guard Chris Rodgers and increasingly productive junior forward Isaiah Fox, who grabbed six rebounds to go along with his eight points Tuesday, Arizona is finding ways to stay out of trouble when Frye gets into foul trouble.
"I thought he did a great job for us," Olson said of Fox.
Arizona is likely to see sophomore forward Ivan Radenovic, who suffered a hip pointer against Wyoming, back on the floor Sunday. Radenovic is scheduled to practice today.
The Wildcats have played a busy November schedule, playing six games in 19 days to make it the busiest November in the history of the program. The Bulldogs will also be the second nationally ranked team Arizona will face in the last nine days.
"We know what it's going to take," Frye said. "We're going to have keep it up and be consistent."


Write a Letter to the Editor