Friday, January 21, 2005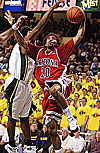 Stoudamire stays hot and shoots down Ducks
The Arizona Men's basketball team used another high-scoring night by senior guard Salim Stoudamire and a big first half to down Oregon 74-66 in Eugene, Ore. last night.
The No. 13 Wildcats (15-3, 5-1) outscored the Ducks 42-29 in the first half, using a 16-0 run midway through to distance themselves in the opening half.
Stoudamire scored 20 of his game-high 27 points in the first half, going 5 of 8 shooting, making all three 3-point attempts and shooting a perfect 7 for 7 from the line. [Read article]




Women's Hoops: Ducks no match for Wheeler, Wildcats
Women's hoops set to face Beavers tomorrow
A new streak has begun for the Arizona women's basketball team as it defeated Oregon last night at McKale Center 69-60 to win its first home game since its 34-game consecutive winning streak was snapped by Stanford on Jan. 9.
Despite being out-shot by the Ducks 48 percent to 41 percent, the Wildcats (13-5, 6-3 Pacific 10 Conference) brought down 35 rebounds compared to 26 by Oregon. [Read article]




Senior Johnson takes final shot at ASU for Gymcats
To Katie Johnson, this is it.
Tonight's dual meet against ASU marks the last shot the senior will have at her in-state rival as a member of the Arizona gymnastics team.
For Johnson, whose Gymcats have not defeated the Sun Devils in a dual meet since she joined the team, only a win will suffice.
"I really want to beat them," she says. "This would be a good rising point in our year if we can beat ASU." [Read article]




Icecats try to stop surging Sooners at home
The UA Icecats find themselves in a must-win position this weekend when they host Oklahoma tonight at 7:30 and tomorrow at 7 p.m. in the Tucson Convention Center Arena.
Icecats head coach Leo Golembiewski said if his team is to advance to the American Collegiate Hockey Association National Tournament in March, they must beat a tough Sooner (15-4-2) team and build on a current four-game win streak. [Read article]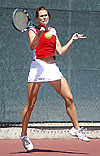 Cats return to home court to face Davis, NAU
After a full slate of road tournaments, the Arizona women's tennis team makes its first home appearance of the season today at 2 p.m. against UC Davis at the Robson Tennis Center.
However, the stopover in Tucson will be brief for the No. 42 Wildcats, who hit the road to take on NAU in Sedona Sunday at 2 p.m.
Coming off a strong showing at the Pacific 10 Conference Indoor Championships last weekend, the UA opens its spring schedule against the unranked Aggies. [Read article]




Swim, dive teams take on Cal, Stanford
Psst, Arizona: Watch out for the teams in the other lanes this weekend.
The UA swim and dive teams take on their fiercest competition of the season Friday and Saturday at the Hillenbrand Aquatic Center when Pacific 10 Conference rivals, Stanford and California, come to Tucson with separate top-10 rankings.
"I am expecting fast swimming," said head coach Frank Busch. "Stanford and Cal always come prepared." [Read article]



Track and field to tango with rivals ASU, NAU
When the UA track and field teams journey to Flagstaff Saturday for their first meet of the spring season, state bragging rights will be on the line. The Wildcats will compete in a tri-meet with in-state rivals ASU and NAU.
"This meet is going to be a great opportunity to see where we are at as a team," said head coach Fred Harvey. "The meet is really more of a chance to get our feet wet."
Both the men's and women's teams come into the meet ranked, No. 15 and No. 17 respectively, looking to establish state dominance. [Read article]




showAds('bigbutton')?>






showAds('mediumbutton')?>

showAds('wildlinks')?>