Monday, February 14, 2005

Men's Hoops: Cats run down Pac-10's top spot
UA uses second half spurt to drop UCLA
Arizona men's basketball opponents know it all too well, and UCLA may know it best.
"We know Arizona counts on vital spurts," said then-Bruin Jason Kapono, now with the NBA's Charlotte Bobcats, in 2003. "It's the spurt of death."
Two years later, the spurt of death emerged again in the form of a 19-0 second-half run, giving the Wildcats their third straight win over UCLA, 83-73, Saturday night in Los Angeles. [Read article]



Men's Hoops Analysis: Arizona defense, Radenovic, shuts down Bruin star Thompson in win
It was not to be this time for UCLA guard Dijon Thompson, and Arizona was going to make sure of it.
In their first meeting, Thompson not only scored 27 points and grabbed 10 rebounds in a near victory in McKale Center, but he was also talking trash the entire time according to Wildcat sophomore forward Ivan Radenovic.
This time though, the Wildcats knew what to expect and Thompson was held in check, scoring 10 meaningless points while shooting 4-of-13 from the floor and turning the ball over four times. [Read article]




Women's Hoops: Solid 3-point shooting paces UA
There was a lot at stake for the Arizona women's basketball team coming into Saturday's game against Southern California. The Wildcats could play themselves into a third place tie or fall to seventh place with a loss.
Arizona responded in dramatic fashion, hitting 69 percent of their shots from 3-point range on the way to an 87-74 victory over the Trojans in McKale Center.
With the win, Arizona (17-8, 9-5 Pacific 10 Conference) is now tied with ASU and Oregon and sits a half game behind second-place USC. [Read article]




No. 11 UA baseball dominates second straight home set
The only thing that seems to be able to stop the Arizona baseball team's bats these days is Mother Nature.
The No. 11 Wildcats (6-0) swept their second consecutive series this weekend, this time beating Northern Colorado (0-3) at Sancet Stadium.
After a rainout Friday, the Wildcats won all three games by double digit runs: 16-1 in Saturday's first game, 13-2 in the second game and 10-0 in a shortened seven-inning affair yesterday. [Read article]



Softball wins despite earlier rain problems
Off the field, persistent rain-muddled playing conditions cast doubt on whether the No. 1 Arizona softball team would see an inning this weekend.
On the field yesterday, Alicia Hollowell and the Wildcats saw five, and they proved the wait was perfectly worth it.
Hollowell pitched a perfect game in five innings, and Arizona defeated Tennessee-Chattanooga 8-0 in Phoenix on the final day of the Kajikawa Classic. [Read article]



Women's tennis winning streak ends with pair of losses
The No. 41 Arizona women's tennis team suffered back-to-back losses after starting the season 5-0 with a pair of defeats over the weekend.
Saturday the Wildcats (5-2) were in New Orleans to take on the No. 15 Tulane Green Wave.
Arizona's No. 17 seniors Maja Mlakar and Dianne Hollands did their part taking care of Tulane's No. 49 Darya and Maria Ivanov, 8-4. However the Green Wave's other doubles teams washed over the Wildcats to give Arizona its first loss of the doubles point this season. [Read article]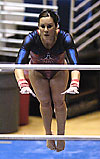 Gymcats continue setting season-highs
The Arizona gymnastics team defeated Stanford in McKale Center Friday night, setting a new season-high with 195.225 points compared to the Cardinal 193.725.
This is the third week in a row in which the No. 20 Wildcats broke their previous season-high score for a meet.
"We have just been getting better for three weeks in a row," said Gymcats head coach Bill Ryden. "The team really came together again." [Read article]



Icecats notch 3 wins without hitting rink
The Arizona Icecats swept the Texas Tech Red Raiders this past weekend – though it wasn't the way the team would have liked.
"We missed out on a 26-hour bus trip, but we would have liked to play the games," said Icecat head coach Leo Golembiewski of the two forfeit wins.
Arizona (13-10-1) was originally scheduled to play the Red Raiders, who were once 21-6, in a two-game series Friday and Saturday night. [Read article]




Swim team defeats Sun Devils in final home meet of season
The final dual meet of the season for the Arizona swimming and diving team against ASU proved to be a good end to the season homestand at Hillenbrand Aquatic Center. The Arizona women won 165-126, and the men's team beat the Sun Devils, 172-118.
The diving team had luck in the well this weekend with junior John Collier winning the 3-meter and defeating last year's NCAA champion Joona Puhakka. Collier also took second in the 1m while senior Claire Febvay took first in the 1m and second in 3m. [Read article]



Track continues charge for postseason
It was yet another successful weekend for the Arizona track and field teams, as they continued to increase the number of athletes participating in post season events.
The Wildcats won the 60-and 200-meter dashes on both the men's and the women's sides, thanks to underclassmen Bobby McCoy and Nikki Martin.
"It was really satisfying because that's where we're going to have the conference meet," Arizona head coach Fred Harvey said, referring to the Mountain Pacific Conference Championships Feb. 25-26. [Read article]



Laxcats defeat Missouri in rainy openers, Rugby falls
After being rained out Friday and Saturday, the Arizona men's lacrosse club team was greeted by sub par, but playable field conditions at Rincon Vista and emerged with a 13-6 victory over No. 14 Missouri.
Initially, due to rainy weather conditions, both Friday evening and Saturday's matches were canceled against the Tigers and Loyola Marymount, a contender in Arizona's Western Collegiate Lacrosse League. [Read article]




showAds('bigbutton')?>






showAds('mediumbutton')?>

showAds('wildlinks')?>