Tuesday, February 15, 2005


Baseball: ASU in town for non-conference tilt
While the No. 10 Arizona baseball team has been beating up on non-conference foes the first two weekends of its season, a more familiar opponent will be coming to town for a non-conference showdown tonight.
That team just happens to be in-state rival ASU.
The No. 11 Sun Devils (6-4) come calling today at 4 p.m. at Sancet Stadium, weeks before conference play begins to allow both schools to get in a full 56-game schedule. [Read article]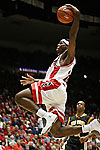 Men's Hoops: Dunks, Dunks and more Dunks
Hassan's Slamfest
Gliding through the air, 42 inches off the ground, the ball is swung around from his knees to over his head like a swing set and goes through the net as the basket shakes.
Hassan Adams is taking flight.
This isn't the first time the 6-foot-4, 212-pound Adams has dunked a basketball. He's been jamming since he was in the eighth grade, abusing baskets with rim-rattling, chest-beating, monster dunks. [Read article]




Women's Hoops Briefs: Cats' Jones named Pac-10 player of week
Coming off two stellar performances against UCLA and Southern California, junior guard Natalie Jones was named U.S. Bank Pacific 10 Conference Women's Basketball Player of the Week yesterday for Feb. 7-13.
"It's been a great honor to actually be Pac-10 Player of the Week," Jones said. "It's my first one. It just feels good. It's a great thing to have this accomplishment."
Jones averaged 20 points, four rebounds, four assists and 1.5 steals over the homestand. [Read article]




Modest McCoy becoming two-sport star for UA
As if playing one sport wasn't hard enough, freshman Bobby McCoy has twice the challenge - he is a member of both the Arizona football and track and field teams.
Since his arrival on campus last summer, McCoy has been balancing a pretty rough schedule: classes, track and football.
"It gets tough," McCoy said of his hectic schedule. "Some days I'll come (to track practice), some days I'll go to football practice." [Read article]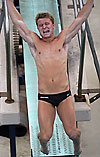 Diving: Collier's transition coming full circle
The transition from gymnastics to diving has not been an easy one for Arizona junior diver John Collier.
He's been to two different schools and struggled with the differences in the two sports.
He has put in the time and the effort and Saturday that work paid off.
Collier solidified his spot as one of the nation's top divers, defeating reigning NCAA Champion Joona Puhakka of ASU in the 3-meter competition. [Read article]




showAds('bigbutton')?>






showAds('mediumbutton')?>

showAds('wildlinks')?>