For ASUA Senate candidate profiles, click here
Beyond sun and sand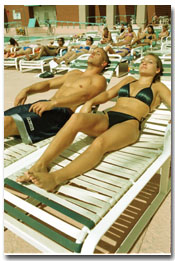 Kayaking and volunteer yardwork fill some students' week
It's hard to be good during Spring Break.
All the makings of a veritable "Temptation Island" are there: sun, beach, babes, brawn, booze.
But for some students, the trappings of an MTV "Spring Break Beach Party" experience hold little appeal.
For these students, serious pursuits, such as volunteer work, will take priority over acquiring the perfect tan.
Jill Rode, an elementary education sophomore and ministry associate at the University of Arizona Lutheran Campus Ministry, discovered a volunteer opportunity that satisfies both the lure of Mexico and the desire to help others.
UMC pediatric ward reading series begins this week

UA athletes, other volunteers share literacy with children

Elizabeth Pickney settled her 6-foot-4-inch frame into a tiny blue-and-yellow vinyl chair and pulled Tanner Coons and his friend Pinocchio onto her lap.

Pickney, a junior forward on the UA women's basketball team, and Tanner, a 5-year-old Tucson boy waiting to see a doctor at UMC's pediatric clinic, met yesterday when Pickney read for the first official day of the hospital's Reach Out and Read literacy program.

As Pickney guided Tanner through the bright, busy pages of his Pinocchio storybook, the tow-headed boy seemed to know what was coming, gleefully pointing to a picture of Gepetto - or as he calls him, "Gary."

Talks with Mac Duff 'went great'

New defensive coordinator will be announced by Friday

With only 18 days remaining before the start of spring practice, Arizona football is still without a defensive coordinator.

As talks finalize in the search for a replacement for Duane Akina, who left to coach defensive backs at the University of Texas, UA athletic director Jim Livengood is optimistic that a new coach will be named by the end of the week.

"Right now we just have to respect the process," he said. "We've talked to a number of people, and we'll make a decision by Thursday or Friday."

No more blabber

Wildcats, we have yet another reason to love that feisty Arizona senator, our boy John McCain. Not only is he a hilarious opponent to baby Bush and a champion for the just cause of campaign finance reform, but he has also authored a bill that, if passed, could allow UA's KAMP Radio to get a low-power FM signal.

Instead of being broadcast to a few on closed circuit in dorms, the unique styling of college radio could be heard within a five-mile radius of the UA.

Saints be praised. There might actually be a radio station in Tucson that is not completely saturated in commercial blabber and preprogramming.

Sonic Bang

2 members of Bang on a Can All-Stars speak about music's affect on public space

Which came first - the music or the space?

Two members of the group known as Bang on a Can All-stars spoke to a group of about 40 UA students, staff and faculty yesterday night on this very topic in the lobby of the Architecture building known as the Centrum.

Mark Stewart and Evan Ziporyn discussed not only different aspects of the group's music but also the role music plays in shaping a public space.
Fast facts: Tuesday March 6, 2001
In the United States, more Frisbee discs are sold each year than baseballs, basketballs and footballs combined.
Alice Binney, wife of company co-owner Edwin Binney, coined the word Crayola by joining craie, from the French word meaning chalk, with ola, from oleaginous, meaning oily.
In 1993, Binney & Smith celebrated Crayola brand's 90th birthday by introducing the biggest crayon box ever with 96 colors.
Derry Church, Penn.., the home of Hershey's Foods, was renamed Hershey in 1906.