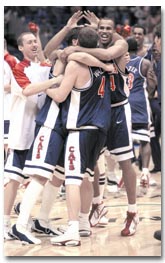 The Wildcats earn first Final Four berth since 1997 with 87-81 victory against Illini
SAN ANTONIO - With less than two minutes in the game, the UA bench players sat together, their arms linked, swaying back and forth celebrating a win.
Little did they know how hard the game's final moments would be. The Wildcats nearly squandered a seven-point lead in the final 45 seconds only to prevail, 87-81, at the Alamodome.
"There have been so many ups and downs this season that I am not sure there is a team more deserving of this," said senior center Loren Woods.
"We keep using the word, 'Family' with the way that we have come together. But as sweet as this moment is, we have two more games until we can put the final icing on the cake."
Arizona players said they knew this game would come down to whichever team was tougher. But ultimately, it was mental toughness and not pure brute force that has the Wildcats making plans for a trip to Minneapolis.
As Illinois tried to outwrestle UA in the low post, the Illini's strength and physical presence actually ended up hindering them as the game wore on. Six Illinois players fouled out and 36 total UI personal fouls were committed, to which the Wildcats earned 56 trips to the charity stripe, a season-high.
Good thing Arizona can shoot free-throws. The Wildcats buried 43 of those attempts (80 percent), including 9 of 10 in the final minute.
The Illini made four three-pointers in the final 2:04 to cut an 11-point UA lead to just three points with 21 seconds remaining.
Student claims racial harassment by UA police

Hispanic freshman says officers assumed he had broken into his own car, cops deny race as a factor in stop

A UA student said he was harassed by campus police earlier this month because of his race.

Psychology freshman Alexander "A.J." Montoy said about five UAPD officers - including Hispanic and Caucasian officers - approached him as he was leaving Tyndall Garage, 880 E. Fourth St., late on the night of March 6, acting "rude," "confrontational" and "like I was a criminal" after seeing Montoy rummaging through his theft-damaged car.

Kerr, Elliot share emotional victory, Olson's success

Former UA stars, current players point to the coach as their guiding force

SAN ANTONIO - Forget about the whole NCAA Tournament for a moment.

Last night's 87-81 victory against Illinois was a celebration of Arizona basketball. Old friends came together, screamed until they were hoarse, and then cried a little.

It didn't really matter that they were Sean Elliott and Steve Kerr, two of the greatest players in Arizona basketball history and teammates on the San Antonio Spurs.

New policies should not threaten employee privacy

The UA human resources department and the Staff Advisory Council are discussing the implementation of background checks for prospective UA employees. Because the plan is in the early discussion stage and there is no actual policy in the works, many details need to be hammered out, and human resources is looking to do so with a university-wide dialogue.

The UA should be careful about implementing new background-check policies, as they could constitute an invasion of employee privacy.

Beach-Blanket Psycho

Kitschy comic thriller "Psycho Beach Party" stars ASUA senator-elect, other UA students

Sarah Calvert is a woman of many personalities - student, ASUA senator-elect, daughter, actress.

And to that, she has recently added a few more - dominatrix, Safeway check-out girl, male model, radio talk show psychiatrist and the accounting firm of Edelman and Edelman.

That's because Calvert, a molecular and cellular biology and political science freshman, is starring as Chicklet Forrest, the schizophrenic, surfer-girl protagonist of Charles Busch's campy play, "Psycho Beach Party."
Fast facts: Monday March 26, 2001
Americans consume more than 80 percent of their tea iced.
The Tea Council of the United States has designated June "National Iced Tea Month."
Americans currently drink nearly 35 billion glasses, or seven gallons per person, of iced tea every year.
Nestlé - the maker of Nestea - is the largest company in Switzerland, yet more than 98 percent of its revenue comes from outside the country.
The Scottish tartans used to designate Scotch Tape were exclusively designed for the 3M Company by New York color consultant Arthur Allen in the 1940s.