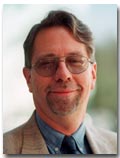 State Sen. Andy Nichols, a veteran lawmaker from Tucson who is a leading supporter of public health programs, died yesterday evening after collapsing in his office. He was 64.
Nichols, a University of Arizona faculty member and administrator, had finished a telephone conversation in his third-floor Senate office about 6 p.m. when he put his head down on his desk and then collapsed on the floor, a witness said.
University medical student Pat Sciara said he and another person administered CPR before Phoenix Fire Department paramedics arrived.
Sciara said he was in Phoenix for a lecture and was in Nichols' office to discuss that when the senator collapsed.
"I thought he passed out," Sciara said.
The last Arizona legislator to die in office was Rep. Elise Salinger, D-Phoenix, in 1999. She was found dead in her home of natural causes.
Landfills filling up, recycling needs to increase, studies find

William Rathje, UA's garbage studies project's director for the past 30 years, wants his program that sorted more than 30,000 tons of solid waste to shut down.

He is not yearning to leave his job because his hands are getting dirty from touching solid waste. Besides, "you can't scare an archeologist by saying you are going to touch garbage - they do it all the time," says Rathje, an anthropology professor who is headed to Stanford University to teach archaeology in the fall.

Duncan staying - at least for this weekend

UA right fielder leads Wildcats into three-game series against Cal

Will Shelley Duncan leave Arizona and turn professional after the season? UA head coach Jerry Stitt thinks so.

Duncan himself isn't so sure.

The UA baseball team's junior right fielder leads the nation in home runs with 19 and will be eligible to enter the Major League Baseball Amateur Draft in June.

Unlike the NBA Draft, the MLB draft allows players to test the professional waters and then decide if they want to continue playing college baseball.

Non-lethal weapons OK, but police should have intervened sooner

The Tucson Police Department is reviewing police actions in the April 2 riot on Fourth Avenue.

The mission is to provide a comprehensive review of the police response. In other words, did police go too far in using non-lethal weapons to disperse individuals remaining within eyesight of officers in the area?

The answer is no.

The scene escalated that night to the point where rioting fans forced officers into action.

A whale of a read

UA students, faculty read classic 'Moby Dick' in 24-hour marathon

Generally a marathon commences with the bang of a starter's pistol.

Yesterday's marathon began instead with "Call me Ishmael."

In a tent in front of the Arizona State Museum, a group of University of

Arizona students and faculty began reading aloud from Herman Melville's classic, "Moby Dick."

"The main reason we wanted to do this is that community is very important in the English Department," said Mandy Siegel, an English junior.
Fast facts: Friday April 20, 2001
According to Einstein's Special Theory of Relativity, it is possible to go slower than light and faster than light, but it is impossible to go the speed of light.
The world's termites outweigh the world's humans 10-to-1.
The only domestic animal not mentioned in the Bible is the cat.
The dot over the letter "i" is called a tittle.
Table tennis balls have been known to travel off the paddle at speeds up to 100 mph.
Pepsi originally contained pepsin - thus the name.