12 arrested in free trade protest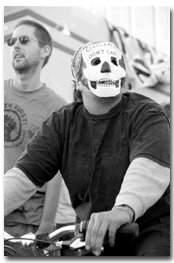 Twelve people were arrested in Tucson when a crowd of about 250 protested the international free trade summit Friday.
The protesters carried signs denouncing the North American Free Trade Agreement and the Summit of the Americas - a trade conference that opened Friday in Canada - where President Bush and other leaders debated a zone known as the Free Trade Area of the Americas.
As many as 20 people were initially detained, but some were cited and released. The 12 people arrested were booked into Pima County Jail on charges of unlawful assembly and blocking traffic, said Sgt. Judy Altieri, Tucson Police Department spokeswoman.
About 10 members of UA's Students Against Sweatshops participated in the demonstration, and none were arrested, said Jesse Kirchner, a linguistics sophomore and SAS member.
"The FTAA is basically the next step in globalization, and globalization is what sweatshops are all about," he said.
Shades of Gray
Fine arts student Susu Gray awarded 'Senior of the Year' by College of Fine Arts
Let your soul be your pilot.
That's the motto fine arts studies senior Susu Gray has followed since she was a senior in high school. Now she will be honored as Senior of the Year, an honor given to her by the UA College of Fine Arts.
Although five other seniors were given awards by each of the college's departments, Saadatu Susumara Gray - "Susu" to friends and family - was awarded Senior of the Year for the college as a whole
"I just got this letter in the mail that said 'Congratulations - you're an Outstanding Senior,'" she said with a tone of surprise. "So that's cool!"
Typically, most students in the College of Fine Arts choose to focus on one specific area of study, but Gray did not. Rather than having to focus her efforts on one area, she chose to incorporate three into a fine arts studies major.
Tucson needs to keep an eye on growth, environmentalist says
JFK's nephew urges students to protect natural resources
Tucson's biggest environmental problem is urban sprawl, environmental advocate Robert F. Kennedy Jr. said in an Earth Day speech to a group of UA students and community members.
Kennedy, an environmental lawyer and law professor at Pace University in White Plains, N.Y., came Friday to the University of Arizona to speak about "Our Environmental Destiny" as part of ASUA's speakers board and environmental awareness month.
He urged the 300 people in attendance to become involved in local initiatives to protect natural resources, saying it is especially important now because of the Bush administration's "disappointing, but not surprising" stance on environmental protection.
Mackovic's first game a defensive affair
Wildcats throw 42 times in pass-happy scrimmage
In the end, John Mackovic's first Spring Game looked a lot like a Dick Tomey-run affair.
Highlighted by stellar defense and a lackluster offensive performance, Saturday's annual Spring Game at Arizona Stadium proved that the pass-happy offensive scheme that Mackovic hopes to implement in the fall isn't quite ready.
More than 4,500 UA fans - lured by free pregame food - opted to watch the scrimmage instead of the NFL Draft, which took place at the same time.
"We have only gotten part way through a long journey," Mackovic said after the game, in which the UA's Blue Team - made up of both offensive and defensive starters - knocked off the Red Team, 21-0. "I thought we did a nice job, but everybody still has a lot of work to do over the summer."
UA and Arizona lose a great leader
Thursday evening, the UA, and indeed the entire state of Arizona, lost an invaluable community member, an outstanding scholar and a tireless lawmaker who worked to make the state a better place to live.
Sen. Andy Nichols, of District 13, died of a heart attack Thursday night in Phoenix. He was 64.
For his family and friends, and for the UA community, Andy Nichols will be remembered as so much more than merely a state senator.
A Stanford-educated medical doctor, Nichols worked as a professor of family and community medicine and taught classes in the UA College of Medicine. He served as director of the university's Rural Health Office, where he'd been since 1970.
Fast facts: Monday April 23, 2001
Mulai Ismail, the final emperor of Morocco (1646-1727), fathered at least 867 kids.
The maximum speed at which erotic sensations travel from skin to brain has been clocked at 156 mph.
Given today's average frequency of sexual intercourse, it would take the typical American couple more than four years to try every one of the 529 positions described in the Kama Sutra.