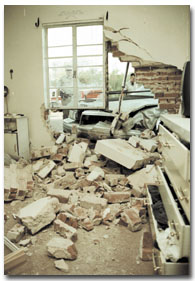 Vehicle hits another car before veering off road into front bedroom of house
A car smashed a hole into the house of four UA students yesterday afternoon.
No one was inside the house, but resident Emily Severson can no longer sleep in her room, and water is shut off to the entire house at 1544 E. Mabel St.
The vehicle that hit the house was going southbound on Cherry Avenue when another car failed to yield right-of-way at the stop sign, said University of Arizona Police Department Sgt. Robert Sommerfeld.
"They collided, and the (car) jumped the curb, came through the front yard and ran through the front bedroom," he said.
No one was injured.
The driver that failed to yield, Abe Chanin, was issued a citation for failing to yield at a stop sign, said UAPD Officer Chris Olson.
UA scientists closer to understanding parasites in water

After two years of studying the effects of microsporidia around the world, two UA professors are a step closer to discovering how the microscopic parasite in water survives.

Charles Gerba, professor of environmental biology, said microsporidia is a microscopic, waterborne parasite that can be found in drinking and swimming water, and it tends to be resistant to disinfectants and is a single-cell parasite.

As bad as she wants to be

DaLee leads Wildcats - her own way

Senior middle blocker Marisa DaLee isn't your typical volleyball player. She's, well, a little different - like one of her favorite athletes, Dennis Rodman.

"(Rodman's) my favorite just because he is so interesting and different," DaLee said.

Bank search should yield a result soon

Seven months after DM Federal Credit Union declined to renew a contract with the UA to be the official university banking partner, the search for a replacement continues.

Although the university should exercise careful judgment while reviewing possible partners, the campus community should also not be left in waiting forever. The University of Arizona has an obligation to provide its population with a secure institution. So, even though the new partner should be selected wisely, students should be able to enjoy the benefits of a banking partner in the near future.

'Downtown movie screenings to benefit Fox Theater restoration

Cinema La Placita brightens up Thursday nights with free

As Tucson's summer heat lingers into fall, nighttime remains the one time of day when doing something outdoors actually sounds like fun.

Cinema La Placita, screening every Thursday night at downtown's La Placita Village shopping center, offers such desired entertainment. The film series began this summer and will continue to screen classic movies each week until the weather becomes too cold.
Today in history: Thursday September 21, 2000
In 1784, America's first daily newspaper, the Pennsylvania Packet and Daily Advertiser, began publication in Philadelphia.
In 1792, in revolutionary France, the National Convention voted to abolish the monarchy.
In 1954, the U.S.S. Nautilus, the world's first nuclear-powered vessel, was launched on September 21, 1954, from Groton, Conn.
Note from the Online Editor:
Thank you for your patience with the new site. As you can see, it is a work in progress. We are currently adding to the script, but due to time constraints and personnel changes, we ask that you bear with us.
Thank you for your support,
Ty Young, Online Editor