UA students join ranks with 10,000 others to protest Democratic National Convention in Los Angeles
It was a clash between grandeur and chaos.
Inside the Staples Center were delegates in suits and gowns, their attention fixed on political pageantry and the extravagant stage. Outside, behind hordes of Los Angeles police officers in riot gear and a14-foot-tall double chain link fence, gathered an odd assembly of 10,000 protesters.
Environmentalists, Greens, anarchists, Zapatistas, Seattle vets, queers, vegans, Christians, Earth First!, MECHA, Shadow Conventioneers, teachersâ unions, the media, and ÷ last Monday ÷ lots of Rage Against the Machine fans assembled together behind the fences to take their stands against the Democratic Party. There were the young and the old, the pierced, the tattooed and the surprisingly normal looking, representing a curious variety of causes.
Underneath the smog of industrial and vehicular pollution and bordered by the towers of corporate America, the demonstrators rallied around one central cry, ăHuman Need, Not Corporate Greed!ä
Student activists from colleges and universities across the nation converged with demonstrators, rallying around causes that spanned local and global levels.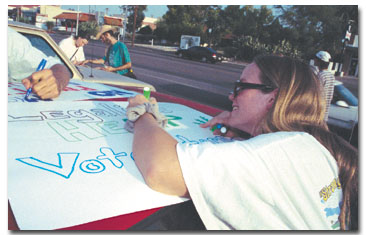 Protest gone global
Student involvement, activism gets bigger scope
About five minutes after the protest was supposed to begin, in front of a small, poorly maintained strip of buildings lining up along Broadway Blvd., a string of protesters are making signs.
The Aug. 15 late-afternoon sun is setting at their backs as they protest the corporate world in bright marker colors on posterboard. A large number of them - though at the beginning of the protest there are barely a dozen - represent the Tucson Green Party.
Signs supporting Green Party candidate Ralph Nader are abundant, but have only been borrowed, since they are too costly to distribute freely.