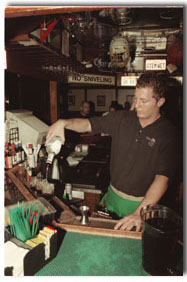 Two days a week, Lindsay Duncan's schedule is crammed with classes.
For the rest of the week, the UA psychology senior splits her time between two jobs to pay for tuition and bills. An internship at a juvenile corrections facility rounds out her bustling schedule.
"I have to work to go to school," Duncan said plainly.
As a retail clerk at Landmark Clothing & Shoes, 876 E. University Blvd, and a cocktail waitress at XS, 536 N. Fourth Ave., Duncan clocks about 40 hours a week. For her it's a necessity.
But beyond that, Duncan recognizes that being active is a fundamental aspect of her lifestyle.
"My parents want me to be independent," she said. "I don't do it just because I need it, I like to keep busy."
Paycheck to paycheck

From tending bar to telling jokes, students seek income from variety of jobs

Whether they have to pay the rent, support a family or simply extra shopping cash, about 75 percent of UA students work according to unniversity static.

Bartlett brings 'fresh' blood to women's soccer team

Freshman scored twice in weekend tourney

It didn't take long for freshman forward Liz Bartlett to make an impact on the UA soccer team.

With only 10 games under her belt, the 18-year-old has evolved into one of the leaders of the Arizona soccer team.

Not voting is not a smart option

Groups of activists are not lacking on the UA campus. But activism is typically supposed to bring about greater involvement and positive results for the community at large.

The League of Non-Voters, however, has different goals in mind.

Performance group brings message of diversity to McKale

Up with People returns to its original Tucson home with

Up With People, the effervescent performance group that travels the globe teaching tolerance and racial awareness, has returned to Tucson after a seven-year absence.
Quotable: Wedensday October 4, 2000
"I feel like Slippery Rock State Teachers and we made the Final Four of the NCAAs and they won't even let us in the gymnasium. They won't even let us on the gym floor to show what we can do."
Reform Party candidate Pat Buchanan on not being invited to participate in last night's presidential debate
Today in history: Wedensday October 4, 2000
In 1777, at Germantown, Penn., near the British-occupied city of Philadelphia, Patriot forces under General George Washington attempt an early morning attack on Sir William Howe's British troops.
In 1909, the first airship race in the United States begins in St. Louis, Mo., with four hydrogen-filled dirigibles, all the existing airships in the United States, participating in the competition.
In 1957, the Soviet Union fired the first shot of the "space race" with the launching of Sputnik, the world's first artificial earth satellite.