UA Internet down for 12 hours yesterday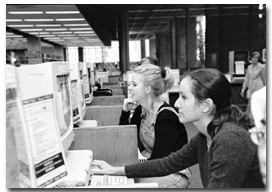 Hardware, configuration problems to blame for disruption
The UA's Internet-access system shut down for nearly 12 hours yesterday, leaving thousands of students, faculty and staff locked out of cyberspace.
The system failed because of a breakdown in the main router that connects the university's ethernet system to the "outside world," said Manny Burruel, UA Network Control manager.
"The entire campus has been affected," Burruel said.
University of Arizona students, faculty and staff were affected by the network crash, which occurred at 6:10 a.m. yesterday.
Many visions, one name

Father, son campaign for seats on Arizona legislature

While some fathers throw balls in the backyard with their kids, Ted Downing pitches ideas in the political arena with son and fellow candidate Demitri Downing.

Shining as a senior

Napier finds consistency, dominates as senior

Perhaps no other Motown lyric better describes Arizona senior outside hitter Allison Napier.

Approval of sex workshop disturbing

Ever wonder what would happen if our student body government teamed up with the Women's Resource Center to sponsor a sex workshop? Well, about 50 students found out last Thursday night, and the result was a somewhat graphic seminar that left students with visions of artificial penises and other sexual "toys."

Life is Good' for artist Beverly McIver

ASU professor's exhibition now showing at Joseph Gross

"That painting's so good I like to lick it," Beverly McIver said of her painting, "Vulnerable One."
Quotable: Wednesday October 11, 2000
"That painting's so good I like to lick it."
Beverly McIver, ASU prof of art her painting, "Vulnerable One."
Today in history: Wednesday October 11, 2000
In 1776, during the American Revolution, a British fleet under Sir Guy Carleton defeats 15 American gunboats under the command of Brigadier General Benedict Arnold at the Battle of Valcour Island on Lake Champlain, N.Y.
In 1899, the South African Boer War begins between the British Empire and Boers of the Transvaal and Orange Free State.
In 1939, the economist Alexander Sachs, an unofficial advisor to U.S. president Franklin D. Roosevelt, presents a letter to the president written by scientist Albert Einstein. Within the letter, Einstein argues the scientific feasibility of atomic weapons, and urges the rapid development of a U.S. atomic program.