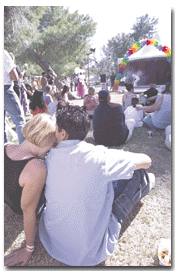 Campus acceptance, resources available for gay UA
With a neon orange sticker proclaiming "dyke every day" affixed on her shirt and her girlfriend at her side, UA English junior Nyla Moujaes is out of the closet, proud, and does not hesitate to let everybody know it.
Moujaes' confidence, which she partly attributes to her physical strength, is not easily cowed, no matter how people react to her outward appearance.
"I am oftentimes stared at, particularly because of my short hair and athletic build, not because I have rainbow flags streaming off of my clothes," Moujaes said. "Our culture knows not what to think of a woman who isn't pressured by societal norms. I'm not afraid to have short hair or wear 'boys'' clothes because someone might not take a liking to me - in fact, I am empowered by my appearance.
"People look at me and are intimidated because they see an autonomous, confident woman who allows nothing to obstruct her path."
Same-sex benefits program in the cards, official says

Group will try to maneuver around political, funding issues

Faculty and staff members have reason to hope for university-wide domestic partner benefits in the next few years, a UA official said last week.

Latino UA students gather for presidential debate

Estudiantes Con Gore pleased with vice president's

At the third and final presidential debate last night, the two candidates addressed healthcare and affirmative action - two topics important to members of the UA Latino community.

Gough leading UA into new season

South African native on quest for championship in doubles

Arizona senior Michelle Gough knows what it is like to be a good tennis player. Now she wants to be great.

Disciplinary hearings over network misuse are fair

UA Residence Life has disciplined 15 students this semester for inappropriate use of Napster, the infamous music file sharing service provider.

The students allegedly took up too much network bandwidth and would leave the Napster program open for long periods of time. These are violations of the ResComp Acceptable Use Policy.
Corrections:
Due to an editing error, playwright Rattan Thiyam was identified in yesterday's Wildcat as an American Indian. Thiyam is from India and is not an American Indian. The Wildcat regrets the error.
Due to a reporting error, yesterday's staff editorial stated that James E. Rogers has donated the seed money for a $137 million interdisciplinary program. Rogers has pledged $137 million to the entire university, not just the program. The Wildcat regrets the error.
Due to a reporting error, yesterday's "Candlelight vigil held for moratorium on death penalty" story stated that Arizona has 921 inmates on death row. According to the Arizona Department of Corrections' Web site, there are actually 115 people on death row. The Wildcat regrets the error.
Due to a reporting error, it was reported in yesterday's Wildcat that the repair for Tumamoc Hill was estimated to cost $5 million. Repairs are expected to cost $500,000. The Wildcat regrets the error.
Today in history: Wednesday October 18, 2000
In 1931, Thomas Alva Edison, who acquired an astounding 1,093 patents in his lifetime, died at his home in New Jersey
In 1469, Ferdinand of Aragon marries Isabella of Castile, thus beginning a cooperative reign that would unite all the dominions of Spain and elevate the nation to a dominant world power.