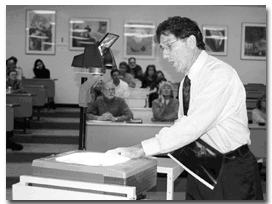 Empowering workers is the way to end sweatshop labor, Appelbaum says
The Fair Labor Association won't die if the UA withdraws, and the university's withdrawal could encourage the FLA to "rethink its policies," said Richard Appelbaum, Worker Rights Consortium advisory council member.
In his speech to about 40 people at the James E. Rogers College of Law last night, Appelbaum, a sociology professor at University of California at Santa Barbara, presented the WRC's side of monitoring sweatshops and protecting factory workers.
"The only way for workers to secure decent and humane working conditions is to be empowered on their own behalf," Appelbaum said. "The FLA was never set up to protect workers' rights."
The WRC's plan of action is to force information from factories, verify workers' complaints in tandem with local groups and spot check areas with repeated violations and weak infrastructures, he said.
Blood drive's extra day tops goal

Extra publicity, effort helped raise more pints for Tucson

The controversy over a "bloody" college challenge took a backseat to the lines of people waiting to donate at yesterday's drive.

Wildcats without Saragosa and Clark tonight against Stanford

Arizona downs Cardinal in 3 games, takes season series 2-0

The fifth-ranked Arizona women's volleyball team once looked at Stanford as the Pacific 10 Conferences powerhouse. The team had never beated Stanford in head coach David Rubio's eight seasons at Arizona.

Logic won out in Fall Ball decision

Put away the vodka and rum bottles, everybody, there won't be any spiking of the Fall Ball punch this year. And while the ASUA Senate's vote of support for President Ben Graff's decision to cancel next Saturday's formal might break a few hearts, it was absolutely the right thing to do.

Poetic renaissance

UA Poetry Center sponsors hip-hop slam

Despite its academic prestige, literary poetry has long been saddled with an image problem - it is seen as staid and stuffy, the province of turtlenecked intellectuals or old men writing rhymes about snow.
Quotable: Friday October 27, 2000
"You don't have to be a Mafia Don to commit organized crime."
Michael Washam, an FDLE special agent supervisor, on the Florida grandmother who was arrested for organizing a pickpocket ring
Today in history: Friday October 27, 2000
In 1659, William Robinson and Marmaduke Stevenson, two Quakers who came from England in 1656 to escape religious persecution, are executed in the Massachusetts Bay Colony for their religious beliefs.
In 1878, $3 million is stolen from the Manhattan Savings Bank in New York City in a celebrated robbery accredited to the gang leader George "Western" Leslie.