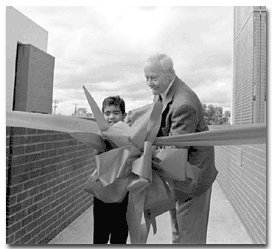 Center is a dream come true, Likins says
Scaffolding and fences surrounding the new UA Sarver Heart Center were removed just in time for its formal dedication Saturday morning, which drew nearly 800 doctors, donors and Tucson community members.
A ceremony complete with a band and multiple speakers was followed by a guided tour of the new addition, which sits atop the College of Medicine building.
"A dream is being realized today," University of Arizona President Peter Likins said. "It is a dream of a heart center that is worthy of the community and the faculty and researchers that have been drawn here."
UA professors and students try to minimize traffic congestion

The "smart" sensors project will be completed soon after a decade

About nine years ago, Pitu Mirchandani, a UA professor in systems and industrial engineering, had an idea that would decrease traffic congestion.

Momentum INTerrupted

Jenkins throws 4 picks in UA's second-consecutive loss

Ortege Jenkins' passes - and possibly Arizona's major bowl hopes - were snatched out of thin air Saturday night when the Wildcats dropped a 27-24 heartbreaker to UCLA at Arizona Stadium.

New bar transportation means no excuses

People who head out to university-area bars looking for a good time but end up too intoxicated to drive home have one less reason to put themselves and everybody else on the road in danger, thanks to a new service that keeps people from driving drunk.

Halloween haunts

Haunted houses, club specials provide alternatives to trick-

Although this may come as a shock, trick-or-treating is somewhat out of the question these days for those who have passed their candy-collecting prime.
Quotable: Monday October 30, 2000
"It was like a bogeyman keeping our fishermen away. Thank God it has gone. The sight of an American ship in our waters is not a beautiful sight."
-Ibrahim Ahmed, a Yemen resident, on the departure of the USS Cole
Today in history: Monday October 30, 2000
In 1875, Missouri's constitution is ratified by popular vote, bringing unity to an American state with a history of division.
In 1908, Caroline Schermerhorn Astor, wife of William Waldorf Astor, the wealthy newspaper proprietor, dies at age 78.