Louie's fire shuts down union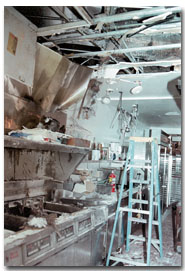 Two-alarm grease fire causes no injuries, keeps public out four hours
When many students and employees heard the fire alarm in the Memorial Student Union yesterday morning, they figured it was just another false alarm.
Then they saw the smoke.
"When you went down the stairs, you saw all the smoke coming from the vents," said Carla McClimon, a business management senior.
When the deep friers at bottom-floor restaurant Louie's Lower Level caught on fire - sending smoke throughout the building - the fire alarms went off.
No one was injured in the two-alarm fire that sent 15 trucks and 40 firefighters to the union and kept several hundred students waiting on the University of Arizona Mall.
Three headed race for president

Republican George Bush, Democrat Al Gore, and Green Party candidate Ralph Nader are vying for the Presidential office. Read their bios and platforms, along with other election news here.

Group attacks UA student near dorm

Second assault in one week at UA also included theft

In the second assault against UA students in the past six days, a man was reportedly attacked yesterday morning on the steps of the Manzanita-Mohave Residence Hall.

Sloppy play hinders Pepsi Red/Blue Game

Arenas led all scores with 30 points

The jovial spirit usually surrounding the Arizona Pepsi Red/Blue Game wasn't present in McKale Center last night. Instead, a sluggish men's basketball team showed fans that the team is still in preseason form.

Like Father, Like Daughter

The Screening Room brings Latin films to Tucson

For lots of gringos, a Latino film event is getting a box of Hot Tamales on the way into the theater.

Tucson's more internationally-aware denizens might realize that the Screening Room, 127 E. Congress St., is providing a valuable opportunity to experience authentic Latino cinema with the 5th annual Cine Latino film festival, running over the next three weekends.
Quotable: Thursday November 2, 2000
"Nobody will have to answer for their actions. It's garbage time. An unleashed Congress is a dangerous thing. About anything is possible, including self-immolation."
-Rep. David Obey, D-Wis. on Congress reconvening for a lame-duck session in mid-November
Today in History: Thursday November 2, 2000
In 1947, powered by eight engines, the Spruce Goose flew for the first and only time.
In 1721, Peter I, the ruler of Russia, abandons the traditional Russian title of czar in favor of the European-influenced title of emperor