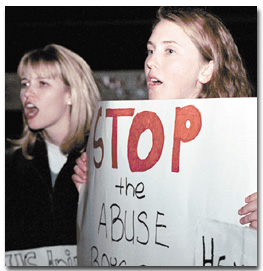 Students say circus doesn't meet federal standards for animal care
Three UA students were arrested on charges of trespassing Friday night for protesting animal abuse at a showing of the Shrine Circus - a circus which has been accused of failing to meet the minimal federal standards for the care of animals.
Tucson Police Department arrested Jeff Jensen, a biological anthropology junior; Rebecca Feather, a psychology junior; and Damien Huffer, an anthropology freshman, after they entered the Rodeo Fairgrounds, 4801 S. Sixth Ave., and passed out literature about animal abuse on the circus' private property. The circus rented the land for the weekend, making it private property.
"We were by the pony rides inside when one of the clowns told us the police were coming, so we started to walk back out, but the police got us," Feather said.
The three students were taken to the Pima County Adult Detention Center at 6:45 p.m. and were released a few hours later, with a court date set for later this month.
UA researcher helping explain origin of Jews

Research of Y chromosome unraveling biblical legend

Genetic research on the Y chromosome may help answer questions of biblical significance related to the Jewish Diaspora, or dispersion of the Jewish people.

UA splits series in L.A.

Arizona holds half game lead over USC in Pac-10

LOS ANGELES - The Arizona volleyball team traveled to Los Angeles this past weekend seeking a sweep of UCLA and USC in order to claim its first ever Pacific 10 Conference Championship.

SAS must adjust strategies to bring change

Last Thursday morning, the cold light of dawn found the main entrances into the Administration building blocked by protesters affiliated with the campus group

More than the sum of its arts

Two new exhibits showcase collection of paintings

Two new, unrelated exhibits opened Sunday at the University of Arizona Museum of Art - a collection of paintings by the late artist Rudolf Baranik and a multi-media presentation and sculpture exhibit by the brother and sister team of Ondrej Rudavsky and Zuzana Rudavska.