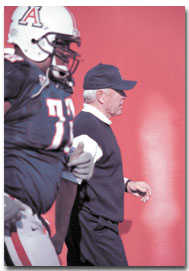 Head coach cites public pressures, criticism as reason for resignation
Dick Tomey resigned as head coach of the UA football team following a 30-17 loss to rival Arizona State Friday night at Arizona Stadium.
"The public debate became so difficult for my family, for our team (and) for our coaches and their families," Tomey said. "I appreciate the opportunity to work at the university. I greatly appreciate all the tremendous Wildcats we've had over the years that have given every ounce of their effort."
Tomey's resignation - on the heels of Arizona's 5-6 losing record this season - left many UA players in tears. Tomey was popular for his "open door" meeting policy and straight-shooting recruiting approach.
"The No. 1 reason why players go to school is to play for a coach," sophomore wide receiver Bobby Wade said. "I came here to play for coach Tomey and his coaching staff."
Bush declared winner in Florida, again

Republicans relieved Florida certifies Bush as winner, Democrats vow courts will overrule

The UA College Republicans want the election to end with their candidate's Florida certification, but the Young Democrats vow their candidate will still prevail.

Who's next?

Tomey's successor will have to be creative, dynamic

In the wake of Dick Tomey's resignation following Arizona's 30-17 loss to Arizona State at Arizona Stadium Friday night, the UA athletic department will start pursuing a replacement for the head coach. The following people are speculated to be connected to the now-vacant Wildcats head coaching job:

Where the thugs are

The mafia has found its way to the UA.

And these aren't your garden-variety Al Capone thugs. These are tough, hardcore UA boys.

And forming big groups to duke it out with a few victims seems to be their cup of tea.

Coming to America

Broadway musical "Ragtime" opens tomorrow night at

The Broadway musical "Ragtime" may have been intended for the enjoyment of audiences everywhere, but it was seemingly tailor-made for actor Jim Corti.
Quotable: Monday November 27, 2000
"We're out there making plays. We're the ones that are out there giving it our all. We didn't make the plays."
UA Senior quarterback Ortege Jenkins regarding Dick Tomey resigning as head coach of the football team.