UA employee accused of murder goes back to work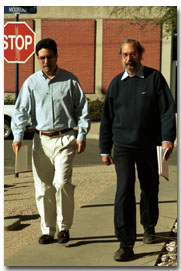 A University of Arizona employee accused of murdering his wife returned to work on campus yesterday.
Ralph David McCormick, a senior office specialist in the Facilities Management department, arrived at the Facilities Management Building, 1331 E. Fifth St., at about 7 a.m. yesterday.
"He's happy to have the opportunity to go back and work," said Michael Piccaretta, McCormick's attorney. "He hopes his job performance will continue to be good, and he'll be a good employee and a good person."
In August, McCormick's wife was found beaten to death with a baseball bat and burned unrecognizable.
McCormick's case is now in the courts, and a pretrial conference is scheduled for early January. If the case does go to trial, it will probably begin in late spring, Piccaretta said.
UA moves away from social security number dependency

Policies change the way university operates

Legislation passed last year prohibits the use of social security numbers for public reference, but UA officials say processes haven't been completely modified yet.

Title Holder

Every team has one player that leads, helping the squad to keep its focus on one ultimate goal - winning.

In the past, great teams like the Chicago Bulls have had one leader - Michael Jordan - among many talented players.

Gore should accept Florida decision

After three arduous weeks of legal battles and recounts, the American people can now know one thing for sure - what a pregnant chad is.

Too bad they still don't know who their new president is.

What becomes of the Broken Hearted

Romances are fleeting, family is a drag, but friendships, they last forever - especially in gay-themed movies.

Friendships are the bread and butter of gay flicks just as romantic coupling is in more mainstream movies.
On This Day: Wednesday November 29, 2000
In 1947, despite strong Arab opposition, the United Nations votes for the partition of Palestine and the creation of an independent Jewish state.
In 1963, one week after President John F. Kennedy was fatally shot while riding in a motorcade in Dallas, Texas, President Lyndon B. Johnson established a special commission, headed by Supreme Court Chief Justice Earl Warren, to investigate the assassination. After ten months of gathering evidence and questioning witnesses in public hearings, the Warren Commission report was released, concluding that there was no conspiracy in the assassination, either domestic or international, and that Lee Harvey Oswald, the alleged assassin, acted alone.