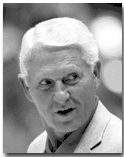 Olson suggests change in structure of the NCAA
UA men's basketball junior forward Richard Jefferson was suspended on Saturday for accepting personal gifts, causing him and head coach Lute Olson to lash out against the National Collegiate Athletics Association.
Jefferson was declared ineligible prior to the Wildcats' 101-41 victory against Saint Mary's (Calif.) for accepting an NBA Finals ticket and plane ticket for a flight to Tucson from teammate Luke Walton's father, former professional basketball player Bill Walton.
Jefferson was in San Diego, Calif., in June for Walton's brother's high school graduation party, and the elder Walton had purchased tickets to the basketball game for the Walton's family gardener.
The gardener turned down the tickets, and Bill Walton offered them to Luke and Jefferson.
UMC, doctor investigated

A chief surgeon at the University Medical Center is under investigation by the Arizona Board of Medical Examiners, but experts say patients have no reason to jump to conclusions about the safety of his practice.

"We can't release the allegations because the actual violations could be much lesser or much worse than the allegations," said Pete Wertheim, spokesman for the Board, about a June 26 complaint made against Paul Nakazato, chief liver transplant surgeon at UMC.

Arizona cruises by Wolverines into the Sweet 16

DaLee and Talbot lead Arizona to victory

The Arizona volleyball team came one step closer to its dream of winning the school's first NCAA title when they breezed into the "Sweet 16" with a victory against Michigan Friday night at McKale Center.

TA benefits take a vital step forward

Our teaching assistants don't get as much as they deserve for their efforts. In some departments, the structure of lower-division classes is based entirely on these graduate students' work. For good or ill, we are dependent on them, and we should consider, whenever possible, reasonable demands for additional benefits on their behalf.

Slapschtick

Australian writer-director Yahoo Serious stars in dismal physical comedy

When the director of a film is named Yahoo Serious, no one expects that movie to be a Merchant Ivory-like production. In fact, no one expects much of anything.