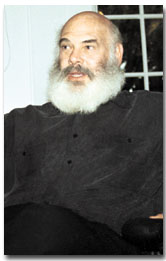 Fast food and eating disorders can lead to unhealthy
If leaving mom's cooking behind has left some students at a loss to eat well and stay healthy, Andrew Weil, director of the UA Program in Integrative Medicine, may have some solutions.
Weil, an internationally known doctor, has written several books on integrative medicine, a practice which combines traditional western medicine with alternative approaches.
Weil, who graduated from Harvard University in 1964, said much has changed since he was in college.
Although there is more interest in fitness, Weil said the diets of college students have significantly deteriorated because of the growing popularity of fast food.
"I think it is one of the worst American inventions, and we are successfully exporting it all over the world now," he said.
Although it is inexpensive and satisfying, Weil said fast food is too often abundant in the wrong kinds of fats, carbohydrates and proteins while lacking any nutritional value.
To make matters worse, the media, Weil said, is creating physical ideals for young people that are more influenced by genetics than anything else.
American culture is pressuring young people to conform to the media's image of "fitness," while popularizing fast food and other poor eating habits, creating an ideal impossible for many to attain, he said.
Weil's Integrative Medicine Clinic Reopens

$2 million loan keeps center afloat

With a $2 million university loan secured three months ago, the UA Integrative Medicine Clinic - founded by Dr. Andrew Weil - reopened last week and will once again see patients interested in Weil's brand of medicine.

Founded three years ago as one of the first clinics of its kind, the facility often has a waiting list of hundreds of patients. Even with the apparent need for the center, waning private donations caused the clinic to close this summer.

The clinic, located at 1237 N. Mountain Ave., treats patients using an "integrative" approach which combines techniques of Western medicine with alternative approaches and has made Weil one of the most recognizable doctors in the country.

The Mack Pack

New UA head coach mixes new hires, assistants from Tomey

Arizona head football coach John Mackovic completed UA's coaching roster for the 2001 season by hiring five new coaches and retaining four from the Dick Tomey era.

Mackovic was hired in early December to replace Tomey, who resigned following the Wildcats' 30-17 loss to in-state rival Arizona State on Nov. 24.

Solomon can help raise UA professor salaries

The UA has its very own advocate for higher education in Ruth Solomon. The District 14 state senator represents the University of Arizona at the state legislature. She is also the new leader of the senate appropriations committee.

And she could help the UA achieve several of its funding goals, including raising tenured track professors' salaries.

At Tuesday's Joint Legislative Budget Committee meeting, both the state house of representatives and the state senate, along with Governor Jane Hull, agreed to allocate state funding to higher education.

Grounded in the past, looking toward the future

Two UA graduate students use art to represent their lives

Art has often been used to express emotion, provoke discussion and document important events.

University of Arizona graduate students Smita Kohl Mathews and Kristen Heist, intend their artwork to do all three.

Their paintings in the newly opened exhibit "Time, Place and Relationship," at the Lionel Rombach Gallery in the Fine Arts Complex, each relate to exactly what the title implies - a time, place or relationship in each of the artists' lives.
Quotable: Thursday January 11, 2001
"But it's not a smoking gun."
-T. Mark Harris, UCLA geochemist, in reference to a crystal that may indicate the life evolved on earth 400 million years earlier than previously thought
On This Day: Thursday January 11, 2001
In 1929, Stalin banished Leon Trotsky from the Soviet Union. Trotsky, born of Russian-Jewish parents, was first arrested for revolutionary activities in 1898. Two years later, he was exiled to Siberia, but escaped to London where he collaborated with Vladimir Lenin.
In 1775, Francis Slavador became the first elected Jew in South Carolina in the New World. In the next year, Salvador, a patriot in the Revolutionary War, becomes known as the "Southern Paul Revere" when he warns Charleston, S.C., of the approach of the British naval fleet.