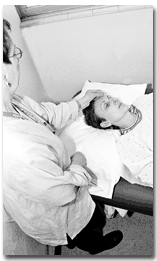 Acupuncture about as effective as therapy, drugs, specialist says
Two years after researchers discovered that acupuncture alleviates symptoms of depression in women, UA psychologists have launched a wider study of the ancient Chinese procedure and its effect on patients.
The promising results of the first small study encouraged the researchers to look more closely at whether acupuncture can be used along with traditional treatments - such as psychotherapy and drugs - to lighten the often-debilitating effects of depression, a condition that afflicts one in five women.
"We found that individually tailored acupuncture treatment for depression provided relief of symptoms in about 75 percent of the women we treated, which is comparable to psychotherapy or medication," said Rosa Schnyer, acupuncturist and principal research specialist in the UA psychology department.
The University of Arizona study, published in the journal American Psychological Society, consisted of 33 women diagnosed with mild to moderate depression.
Because of the small number of test subjects in the first study, the UA team's findings were not conclusive, Schnyer said.
Christopher City may be sold to private developers

Proposal will be decided at Feb. 26 Tucson City Council meeting

The former Christopher City family housing complex could be sold by the university to private developers after 30 years of UA ownership.

The University of Arizona has proposed to the Tucson City Council a plan that would change the zoning, so the property could include a more dense housing facility as well as commercial buildings and office space.

The plan was recommended for approval by the Tucson Planning and Zoning Committee last month after the UA agreed to 40 stipulations for the land's use.

The plan's future will be decided at the Feb. 26 City Council meeting

The heir apparent

Freshman Gladding uses experience of elder teammate to make the transition to collegiate softball

Becky Lemke knows what Jenny Gladding is going through, because she's been there herself.

Four years ago, Lemke was a dominant softball player as a senior at Horizon High School in Scottsdale. She lettered in each of her four years, was twice a first-team All-State selection and capped off her career with the Arizona Player of the Year honor to go along with the 5A state championship she led her team to in 1997.

Playing collegiate softball for the top program in the country - the University of Arizona - was something Lemke dreamed about at the time.

Students must use online voting service

ASUA is using technology to combat a debilitating weakness of today's youth: voter apathy.

ASUA elections commissioner, Joe Rodgers, along with ASUA President Ben Graff, have worked with the Center for Computing and Information Technology (CCIT) to establish an Internet voting program for this year's ASUA elections.

It is now up to UA students to take advantage of ASUA's guinea-pig innovation and get involved in this year's student government election.

Theater arts department elevated to school status

It's one small step for the university and one profound development for the Fine Arts department.

On Jan. 26, the Board of Regents officially proclaimed the University of Arizona theater department the School of Theater Arts.

A school, as opposed to a department, must have a multi-disciplinary curriculum. For example, schools of music occur commonly in universities because of the assorted instruction they offer. Should classes in marimba arrangement and opera singing be classified in the same department? Maybe not, but they do fit into the same school.
Fast facts: Wednesday February 7, 2001
If you bring a raccoon's head to the Henniker, N.H. town hall, you are entitled to receive 10 cents from the town.
The world's widest road, the Monumental Axis in Brazil, can hold 160 cars, driving side-by-side.
A baby eel is called an elver while a baby oyster is called a spat.
A group of officers is called a mess.
A hamlet is a village without a church, and a town is not a city unless it has a cathedral.
A hydrodaktulpsychicharmonica is a variety of musical glasses.