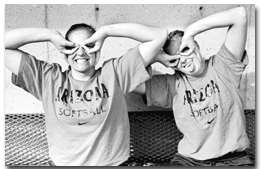 BRYAN TROLL
Senior pitcher Becky Lemke (left) and freshman pitcher Jenny Gladding clown around prior to yesterday's practice at Hillenbrand Stadium. Both pitchers have seen recent success in early-season tournaments.
Arizona Daily Wildcat
Freshman Gladding uses experience of elder teammate to make the transition to collegiate softball
Becky Lemke knows what Jenny Gladding is going through, because she's been there herself.
Four years ago, Lemke was a dominant softball player as a senior at Horizon High School in Scottsdale. She lettered in each of her four years, was twice a first-team All-State selection and capped off her career with the Arizona Player of the Year honor to go along with the 5A state championship she led her team to in 1997.
Playing collegiate softball for the top program in the country - the University of Arizona - was something Lemke dreamed about at the time.
"It was always my number one school," she says.
After making official recruiting visits to Cal-State Fullerton and Arizona State, Lemke talked things over with her parents and decided that accepting a near-full scholarship offer from the Sun Devils was in her best interest.
The campus was close to home and the financial benefits were too much to pass up, and besides, Lemke thought there was no way Arizona would make her a similar offer because the Wildcats had already inked seven recruits.
Even though she had yet to visit the Arizona program, Lemke picked up the phone and dialed Arizona State's coach to commit to the Sun Devils. However, something prevented her from attending school in Tempe.
The phone was busy.
So, Lemke came to Tucson for her recruiting visit, and shortly after signed a letter of intent with the Wildcats.
"I guess it was destiny," says Lemke.
Four years later, Lemke has established herself as a dominant force in the Arizona program. Her 86-19 record has her on pace to become the fourth pitcher in school history to amass 100 career victories. Last season, Lemke struck out 314 batters, shattering former standout Susie Parra's old mark of 256, set in 1993.
"Becky has been a solid performer for us," UA head coach Mike Candrea says. "In our game, if we're not strong in the circle, then this game becomes very difficult."
This season, Lemke is closely observing another high school pitcher making the transition to playing softball at the top program in the 1990s.
Like Lemke, Gladding was nothing short of spectacular in high school, drawing the attention of college coaches from across the country. While racking up some impressive numbers - she owns the Florida high school career strikeout record (413) and was a two-time All-American - at Marin County High School in Stuart, Fla., Gladding began looking at Arizona following her junior year in school.
"Arizona is the top softball program in the country, so of course it's a dream to go there," Gladding recalls thinking.
After sending an e-mail to Candrea, Gladding met her future coach while playing for the ASA Gold, the top high school traveling team in the country. The two met during a 1999 tournament in Chattanooga, Tenn., and Gladding was immediately impressed.
"It's like talking to the softball god," she says.
After coming to Tucson on a recruiting trip, Gladding narrowed down her choices to Arizona and Florida.
In the end, though, playing softball for a program with five national titles in the '90s was too much to pass up.
Coming to Arizona, Gladding knew she would see limited playing time during her freshman campaign because of Lemke and another standout member of the Wildcats' pitching staff, junior Jennie Finch. Along with Lemke (30-7 last season), Finch (29-2) has dominated opposing hitters during her time at Arizona and established herself as one of the premier pitchers in the Pacific 10 Conference, if not the entire nation.
Even with limited playing time and the typical freshman duties - "we make her carry the bags, of course," Lemke says - ahead of her this season, Gladding is anything but a passive bystander on a team with eight returning seniors. Instead, she is using the only season she'll have with Lemke as a crash course to pitching in the Wildcats' storied program.
Following in Lemke's footsteps and becoming the next great pitcher for a program that includes the likes of former All-Americans Debby Day, Parra, Nancy Evans, Lemke and Finch won't happen overnight, but Gladding doesn't expect it to.
"It's just going to take time and I'll have to go through what she has gone through as a freshman to a senior," she says.
But as Gladding has begun to discover, becoming successful at Arizona means much more than excelling on the field. Fitting in with teammates and learning to live more than 3,000 miles away from home are also challenges that can take their toll on first-year student-athletes.
As a freshman in 1998, Lemke remembers crying after practice one day because she had served up some hard hits against former All-American Leah Braatz. Even though Candrea comforted her and explained that the hitters she was pitching to were the best in the country, Lemke says the reaction was also an indication of how hard a student-athlete's freshman year can be.
Lemke, meanwhile, would go home to Phoenix every weekend her freshman year because she was homesick, so she understands what Gladding is going through. During her first season on the team, Lemke looked up to Evans, who, as a senior, was one of the top players in the nation.
While Lemke was a senior in high school, Evans led Arizona to its fifth national title by posting a school-best 36 wins. She capped off her brilliant season by pitching all five victories in the College World Series, including a 10-2 win against UCLA in the title game.
Evans says that Gladding has become an apt pupil of Lemke's.
"Jenny will be there watching Becky pitch," Evans says. "She'll be able to learn by watching her perform and by listening to her advice."
Lemke says Evans helped her the same way she would like to be there for Gladding.
"I feel so fortunate that I got to look up to Nancy," Lemke says. "I wish I could tell (Gladding) so much just to get her a feel for things and be more comfortable. It just seems like she's a bit overwhelmed right now."
Since practice began last fall, Gladding has already developed a great deal of admiration in the same manner that Lemke did for Evans.
"She is the greatest person I've ever met; she's incredible," Gladding says, adding that helping Lemke and the team's other seniors win their first NCAA Championship is her ultimate goal this season.
The mutual respect the two have is not limited to off-field traits, though. Among other things, Gladding admires Lemke's composure, pitch selection and the way she approaches each hitter.
"Any team she goes up against, they have that fear in the back of their mind because she's one step above them," Gladding says.
Lemke, meanwhile, says some players on the team thought Gladding was "soft" because of her sweet personality off the field. That perception changed as soon as they saw her pitch.
"She's a very nice kid off the mound, but once she gets on that mound, she's a totally different person," Lemke says. "She's got a great heart, someone who wouldn't hurt a fly, until she gets on the mound."
While Lemke has already left her mark in Arizona's record books, only time and a lot of practice will determine what Gladding's legacy as a Wildcat will be. If her first collegiate outing is any indication, Candrea might have found the perfect replacement for his graduating senior.
Against Northwestern Saturday, Gladding allowed one hit and struck out 13 batters while pitching seven shutout innings. Not to be outdone by the freshman, Lemke tossed two shutouts - including a no-hitter in the team's opener Friday against Florida Atlantic - as the Wildcats won the Louisville Tournament in Tampa, Fla.
Asked about what she can improve upon from her first start, Gladding doesn't hesitate for a second. Everything.
Helping her reach the elite level during her time at Arizona will be Candrea, Evans and Finch. And Lemke, though only for one year.
"I'm just going to help her with whatever I can, with the ups and downs," she says. "I've tried to take her under my wing a bit."
During the rest of the season, Gladding will likely see considerable time during Arizona's five tournament appearances between now and mid-March. When the Pac-10 season arrives, though, she could be the third wheel on a team that already has two of the strongest pitchers in the country.
That's fine with Gladding.
"I have a lot to learn from Becky," she says.