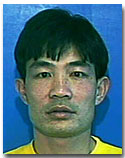 Suspect identified in UA student's murder
Chinese and local authorities focus search for suspect in China
The Tucson Police Deparatment named a suspect yesterday in the double murder of a Universty of Arizona doctoral student and his wife.
Tucson Police Department identified Wenshi Zhou, 37, as the suspect in the Nov. 3 murder of UA student Jianquing Yang, 32 and his wife Yu Yun Chen, 33, in their midtown apartment.
The couple was found by their 6-year-old daughter, who called 911 to report that she couldn't wake her parents.