Saturday, March 5, 2005 - Weekend Sports Update
Senior guard Salim Stoudamire hit the game-winning shot again for the No. 11 Wildcats in a 70-68 victory over ASU in Tempe tonight.
Arizona (25-5 overall, 15-3 Pacific 10 Conference) took the ball down the court with 45 seconds remaining in the game. A missed shot tipped around and eventually ended in the hands of Stoudamire with 25 seconds to go, and no shot clock to worry about. [Read article]

After a turbulent season plagued by injuries, the Arizona women's basketball team was in need of win in order to secure its fate in the NCAA tournament.
The Wildcats (19-11, 11-8 Pac-10) were unable to do so as they fell to Southern California, 74-66, Saturday night in Pacific 10 Tournament at HP Pavilion in San Jose, Calif. [Read article]


Friday, March 4, 2005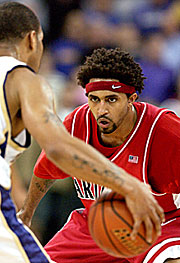 Devils, Cats battle to finish regular season
The No. 11 Arizona men's basketball team has one more chance to put itself in line for the Pacific 10 Conference title and solidify its postseason status.
The Wildcats (24-5, 14-3 Pac-10) travel to Tempe to take on ASU (18-11, 7-10) at 4 p.m. tomorrow.
With a win, Arizona forces Washington to sweep California and Stanford tomorrow to get a share of the regular season Pac-10 title.
"I don't think (head) coach (Lute Olson) will tell us (if Washington loses). If it does happen, like, they lose. I think it will give us that extra little initiative," said senior center Channing Frye, who hails from Phoenix. "But at the same time, I don't think we need anymore reasons to go out there and play the best we can." [Read article]

·
Men's Hoops: All bets off for UA-ASU tilt
·
Women's Hoops: UA battles for NCAA nod in San Jose
·
Baseball, Texas to lock horns at Sancet
·
Jung visits UA softball to try to spark bats
·
Men's swim drops to 4th at Pac-10s
Online Exclusive
·
Gymcats head to Columbus to take on Ohio St.
·
Women's Tennis: Wildcats set to take on defending national champs
·
Track home to open outdoors
·
Laxcats hope for rebound in conference opener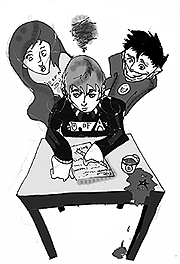 The quiet rustle of blue books is the only noise to break the silence of the classroom. You're hastily scrawling answers when you notice it - the eerie but somewhat familiar feeling of someone else's eyes on your paper. You look up, only to catch a classmate's expression as he looks away, unconvincingly feigning innocence.
Such a scene may be fictional, but it's certainly not that far removed from the reality of higher education. The notion of academic integrity seems to be under siege, with the number of infractions seeing a marked increase in recent decades. Apparently, some students have what can most charitably be described as a casual relationship with honesty. And their numbers are growing. [Read article]

·
Editorial: Thumbs up, thumbs down
·
Mailbag
Latest Issue: March 3, 2005
When Saul Williams puts beats to his poetry, the man becomes more than just an emcee or a modern troubadour.
He becomes what we all fantasize being: a rock star.
Having released his self-titled album in September, Williams returns to Tucson next Wednesday to give us all a taste of his latest poetic musings when he performs at City Limits.
Most reputably known as one of the most talented spoken word poets the world has ever seen, Williams is an actor, a rapper, a singer and a preacher. And he's actually good at them all, but doesn't take kindly to his music being categorized. [Read article]

·
Tucson and Campus Calendar
Campus
·
Tomlin brings her act to Hillel
·
Brothers put the 'Grimm' in tales
Film
·
Curses! Scott Baio is back!
Music
·
Symphony highlights Ives' career
·
Organ Festival honors slain prof
·
The Robot Ate Me speaks volumes
·
CD Reviews: A Static Lullaby, Tori Amos, The Robot Ate Me
Literature
·
Book Review: Mediocre 'Rigby' disappoints
Latest Issue: February 22, 2005

Hookah offers safe and relaxing alternatives
College students are always looking for the newest, hippest and easiest trends to keep their bored little minds occupied. While smoking weed will always be fashionable, it's illegal too. As an alternative, locals, young and old, are getting together to smoke the legal way, with the help of the hookah.
The pastime has become even more popular in Tucson since Roger Smiley and his wife Sarah opened Smiley's Ultimate Hookah Lounge and Coffee last year. [Read article]


require('/home/webby/html/papers/98/polls/current.php')?>

showAds('bigbutton')?>




showAds('mediumbutton')?>


showAds('wildlinks')?>