Wednesday, April 27, 2005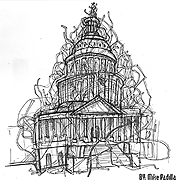 "Damn it, why does this always happen?" my friend said as he pulled a jumbled nest of guitar cords out of his bag. "No matter how neatly you put something away, it always ends up a huge mess."
Maybe there's a leprechaun that lives in his bag and tangles up the cords when he's not looking. But another culprit is just the fact that entropy - the measure of chaos and disorder - is ever increasing in our expanding universe. Things never want to stay the way they should. [Read article]

·
Viewpoints
·
Mailbag
Latest Issue: April 26, 2005

Exploring the female orgasm: coming to the point
Her body curls and clenches with tingles of pleasure, a feeling some UA women have yet to understand or experience.
Regardless, if a woman is exploring with the different types of orgasms, masturbating, or learning how to get off without faking it, experts agree being comfortable is essential for achieving an orgasm.
Though some women may feel like a victim of orgasmic dysfunction, or the inability to climax during sex, experts said this diagnosis is rare for young women. Instead of needing medical treatment, college-aged women can usually find orgasmic relief from different methods of arousal and self-discovery. [Read article]


·
Commentary: Men and the orgasmic lie
Latest Issue: April 21, 2005

require('/home/webby/html/papers/98/polls/current.php')?>

showAds('bigbutton')?>






showAds('mediumbutton')?>


showAds('wildlinks')?>