Thursday, October 21, 2004

Political visits stir student protests
With the elections less than two weeks away, controversial political figures are flocking to campus, resulting in student protests and the lingering question of whether this form of political activism is effective.
Conservative author Ann Coulter will speak at Centennial Hall today, just one week after Michael Moore's visit to McKale Center.
Alicia Cybulski, president of the UA Young Democrats, said UAYD will not organize a protest for the Ann Coulter event, nor will they condone any disruption during the event. [Read article]



4-decade physics professor, 88, dies
Leon Blitzer, an influential UA physics professor for more than 40 years, died Monday at age 88.
Daniel Stein, head of the department of physics, said Blitzer's passing is a sad occasion, as he built a significant foundation of scientific research at the UA.
"I enjoyed knowing him very much," Stein said. "He played an important role in the early history of the department."
Blitzer, who was raised in New York, came to the UA in 1936 for his bachelor's and master's degrees in physics. He went on to earn a doctorate from California Institute of Technology in 1943 before returning to the UA as a member of the faculty. [Read article]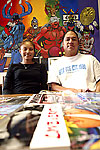 Student journal has national appeal
For the past 14 years, UA students committed to advancing American Indian culture and artistic achievements have worked to produce a journal that is now read by people across the nation.
Red Ink: A Native American Student Publication was started in 1990 by a group of graduate students in the American Indian Studies department, said Ian Record, curriculum development manager for the Native Nation Institute and former managing editor of Red Ink. [Read article]



Better late than never: yearbook delivery begins
This year's UA yearbook, The Desert 2004: Unearthed, was released yesterday.
About 1,500 yearbooks have been mailed out to the students, staff and various UA departments that ordered them.
Though Daniel Scarpinato, former editor in chief of the Desert, said the book was supposed to be published in the fall, it was mailed out later than expected because of a few delays in the spring production cycle. [Read article]




High-tech club builds 12-inch airplane
A group of 20 UA students are working on an award-winning Micro-Air Vehicle design, which carries an onboard Global Positioning System, infrared sensors and cutting-edge artificial intelligence.
The students are part of the Micro Air Vehicle club, which hopes to develop a small, hard-to-detect unmanned aerial vehicle, or UAV, for use in military applications.
"The whole goal of the 12-inch autopilot plane is to be able to let the Army, specifically, use it," said Anton J. Kochevar president of the MAV club at the UA. [Read article]




Prof: Election's outcome will be 'enormous' on U.S. foreign policy
Iraq is not the only foreign policy issue the future presidential administration must focus on, said political science professor Tom Volgy during yesterday's Faculty Fellows Speaker Series.
Volgy spoke to an audience of about 100 people on this year's election and the impact it could have on future U.S. foreign policy.
"The outcome of the election will have an enormous impact on foreign policy," Volgy said. [Read article]



Students debate public benefits of Prop. 200
The chief complaint about Proposition 200 is its lack of details, which, if passed, could have great ramifications in most state services.
The litany of complaints voiced by the opposition to Proposition 200 can be boiled down to the definition of public benefits.
Proposition 200, called the Protect Arizona Now initiative, seeks to cut off public benefits to illegal immigrants. Specifically, the proposition would require valid identification of citizenship when voting and seeking non-emergency welfare benefits including food stamps and housing assistance. [Read article]



ASUA Briefs
ASUA and Hillel to fund election night party at Belushe's
ASUA senators approved funding for an election night party for students Nov. 2 at a local bar.
Belushe's Bar and Grill, 1118 E. Sixth Street, will host a social gathering for all students who want to watch the election results from 6 p.m. to 12 a.m.
All ages are welcome, but security will restrict underage students from the bar area, said Ashley Eden, an ASUA senator. [Read article]



Fast facts
Things you always never wanted to know
Though it was not diagnosed until he had returned to Washington, Abraham Lincoln was suffering a mild case of smallpox when he delivered his historic address commemorating the new cemetery at Gettysburg, Pa., in Nov. 1863.
Margaret Mead's first foray into observation of human behavior occurred before she was a teenager. As a young girl of 8 or 9, she recorded the patterns of speech of her younger sisters. [Read article]




showAds('bigbutton')?>






showAds('mediumbutton')?>

showAds('wildlinks')?>