Friday, January 14, 2005
$50K anonymous grant given to UApresents
After months of financial instability, a "challenge grant" of $50,000 has been promised to UApresents by an anonymous donor in an effort to reduce the organization's growing deficit.
The donor has guaranteed UApresents $50,000, while the UA will contribute $75,000 if UApresents raises $100,000 this season before the June 30 deadline, said Amanda Place, director of development for UApresents.
UApresents is $9,000 shy of its goal, having raised $91,000 to date primarily from donations made by theater patrons. Last year they received $615,000 in total cash gifts. [Read article]

·
Site built by alums facilitates text swap
·
Residence Life takes over La Aldea for grad housing
·
New kids on the block: Transfer students get comfortable
·
Agriculture prof wins award for dedication to education
·
Fast facts



The college dating scene is something akin to survival of the fittest, meant less for the weak of heart than for the rare man who is able to give women what they want (which seems to be, well, everything).
As such, what women interpret to be piggish male behavior is often nothing more than a man's desperate attempt to play the Darwinian game. Strangely enough, most male attempts to brave the storms that are college relationships follow a set pattern. The following is an illustration of the pratfalls that we commonly confront: [Read article]

·
Privatizing Social Security not worth price tag
·
Mailbag
Latest Issue: December 8, 2004

require('/home/webby/html/papers/98/polls/current.php')?>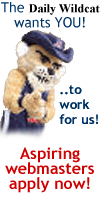 showAds('bigbutton')?>






showAds('mediumbutton')?>


showAds('wildlinks')?>