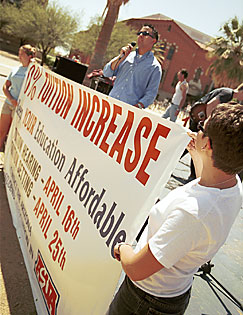 DEREKH FROUDE/Arizona Daily Wildcat

With the help of ASA director Jenny Rimsza, right, and ASUA chief of staff Kristi Lange, far left, ASUA president Ray Quintero announces yesterday afternoon on the Mall that student leaders will support zero-percent tuition hikes. This announcement comes in sharp opposition to President Peter Likins' recent proposal to raise in-state tuition by 12 percent.

By Cyndy Cole
Arizona Daily Wildcat
Tuesday Apr. 9, 2002

Counter-offer to university presidents' plan the same at all three universities

Student leaders announced yesterday that they will seek to keep next year's tuition the same as this year's.

The proposal, which comes only days after UA President Peter Likins' call for a 12 percent in-state tuition hike, echoes an anti-tuition hike stance held by student leaders across the state.

Two student government officials held up a sign that read "0% tuition increase, Keep YOUR Education Affordable" during a brief rally yesterday afternoon on the Mall.

"When the (Arizona Board of Regents) sets our tuition, they need to set it with a zero-percent tuition increase," said Associated Students of the University of Arizona President Ray Quintero. "It's not students' responsibility to be paying for downfalls of the state and the Legislature."

Last week, Likins proposed a $300 tuition increase for in-state residents and a $1,000, or 9.7 percent, tuition increase for out-of-state residents. The presidents of Arizona State University and Northern Arizona University presented similarly high proposals.

If the Board of Regents were to approve Likins' proposal as is, tuition and fees would total $2,790 for resident students and $11,356 for out-of-state students this fall.

Likins said he knew about yesterday's proposal since, when he met with student leaders April 1.

"It's a long way from last year, when the students and presidents were very much in harmony going into this process, and it's just going to make life complicated for the regents," Likins said. "They'll just have to decide · how to handle this tuition question."

Regents Chris Herstam and Jack Jewett, who are both known for opposing large tuition increases, said yesterday that they do not support a tuition increase of anything more than 4 percent for in-state students, the rate of inflation in university education as calculated by regents' staff.

"I've talked to a few regents who think 4 percent (increase in tuition) would be OK," Herstam said. "I personally support a 4 percent tuition increase."

Jewett wants in-state tuition to increase to keep pace with inflation, but he said raising tuition more encourages the state Legislature to under-fund the university.

Jewett added that because the state constitution has a provision mandating that education be as free as possible, he is opposed to tuition increases of more than 4 percent for in-state students, but not for out-of-state students.

He said he supports an increase of more than Likins' proposed $1,000 for nonresident.

Last year, student government and lobbyists went along with a tuition increase of $140 for in-state students and $550 for out-of-state students on the basis that the increased revenue would be used to improve advising and faculty retention, among other things.

The advising money was never distributed due to the lack of a solid plan and because of state budget cuts.

The experience left student government leaders feeling like they could not track funding.

"It'd be a lot easier for students to pay more tuition if they knew where their money was going," said student lobbyist Denny Marta.

The state government has been divided on the tuition question.

Gov. Jane Dee Hull's press secretary, Francie Noyes, said in January that Hull was firmly against a tuition increase.

That same month, the state Legislature toyed with the idea of using tuition money to cover part of what could be a billion-dollar state deficit, which would negate revenues generated by increasing tuition.

Members of the UA community and public can talk to regents about next year's tuition at a teleconference from 5 p.m. to 7 p.m. April 16 in Room 211 of the Harvill building.

The nine regents with voting rights will set tuition during their April 25-26 meeting at Northern Arizona University.