Wildcats land nation's top point guard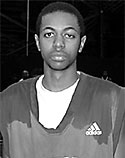 Mustafa Shakur
basketball signee

By David Stevenson
Arizona Daily Wildcat
Wednesday October 9, 2002


Mustafa Shakur, rated the No. 1 high school point guard in the country by most recruiting services, verbally committed to Arizona last night.

He picked UA over North Carolina State weeks ago but waited to announce his decision until Arizona head coach Lute Olson returned from Italy.

"He said he already made up his mind after the UA visit," said Mike Sullivan, the publisher of Rivalshoops.com. "It was the degree of comfortability with the coaches and the players. He knew before he visited North Carolina State that he wanted to go to Arizona."

As a junior at Friends Central High School in Wynnewood, Pa., Shakur averaged 18.8 points and six rebounds per game.

His mother, Sakina Shakur, said the UA was the perfect fit for her son because of the school's deep history of preparing guards for the next level.

"I'm pleased he chose Arizona," she said. "I liked what they had to say and offer and I had noticed all of the past guards that came out of Arizona and their play."

Sakina said she is just happy the whole recruiting process is now over.

"I'm telling you, we had so many calls from all these schools ÷ it's been like every five minutes," she said.

The 6-foot-3 Shakur was named as one of the 16 finalists for the 2002 USA Basketball Men's Junior World Championship Qualifying team. Shakur didn't return to USA Basketball training camp after he made the final 16 because he had to attend summer school.

"He's listed as a point guard but he has the skill to be a combination guard because he can shoot the ball and run well," said USA Basketball men's program director Sean Ford, who watched Shakur's tryout last summer for Team USA.

Sullivan agreed.

"He shoots the ball very well and breaks defenses," he said. "He has the ability to stay under control and he scores points when he's able to separate from his opponents for the shot."

The addition of Shakur ÷ along with Ndubi Ebi ÷ already gives the Wildcats one of the best recruiting classes in the nation. Edi committed verbally on Oct. 1. Verbal contracts are non-binding until National Signing Day on Nov. 16.

"On paper, Arizona could be in position to have one of the top recruiting classes in the country and it puts them in position to have the same success they've had in recent years," Ford said. "But in my opinion, recruiting classes should be judged after their freshmen year, when they develop."

The Wildcats' next highly touted prospect is Brian Butch, who has yet to make a decision.

The seven-foot center from Wisconsin is expected to make his announcement in a few weeks, Sullivan said.